Questioning Heterogeneous Stage with Jeroen Peeters and Jennifer Lacey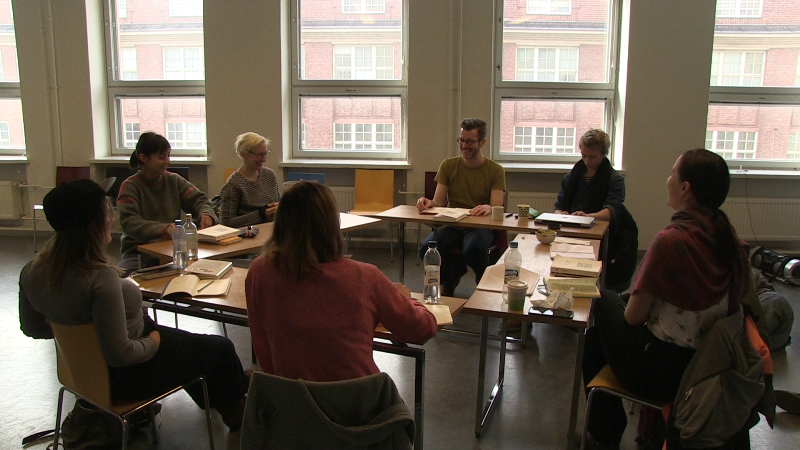 In the beginning of March 2016, Jeroen Peeters and Jennifer Lacey visited MA Programmes in Choreography and in Dance Performance giving an international seminar and workshop that dealt with and questioned the theoretical and methodological premises for some contemporary dramaturgical and compositional ideas, such as performance dramaturgy and heterogenous stage. Jeroen Peeters is a Belgian dramaturge, performer and writer and Lacey is a renowned American choreographer and teacher based in Paris.
With the MA students in Choreography, Peeters had a one-week reading seminar on his book Through the Back: Situating Vision between Moving Bodies (2014). He also gave an open lecture for the community titled "Living Together on Stage". The workshop, in which the MA students of Dance Performance also took part, was led by both Peeters and Lacey. 

In the workshop, the concept of  heterogeneous stage was studied through different corporeal, textual and functional approaches and methods, some of which were introduced by Peeters in his seminar. These working methods produced surprising choreography and action on stage, complexity, umpredictability and variable means of expression in unexpected dramaturgy. After this and several other the workshops that were studied during the spring, MA students of Choreography and Dance Performance work together exploring different choreographic and dramaturgical methods. The outcome of the three-week working period will be shown to public in an open demo on April 14th at 6 pm.    
Koreoblogi
Koreografian koulutusohjelman blogi on keskustelun ja jakamisen paikka. Täällä koulutusohjelman opiskelijat, henkilökunta ja vierailijat kirjoittavat koreografiasta, opiskelusta, meneillään olevista projekteista, (tanssi)taiteesta ja sen ympäriltä.
Uusimmat julkaisut
---
---
Seuraa blogia