Call for applications for MA in Dance Performance 2022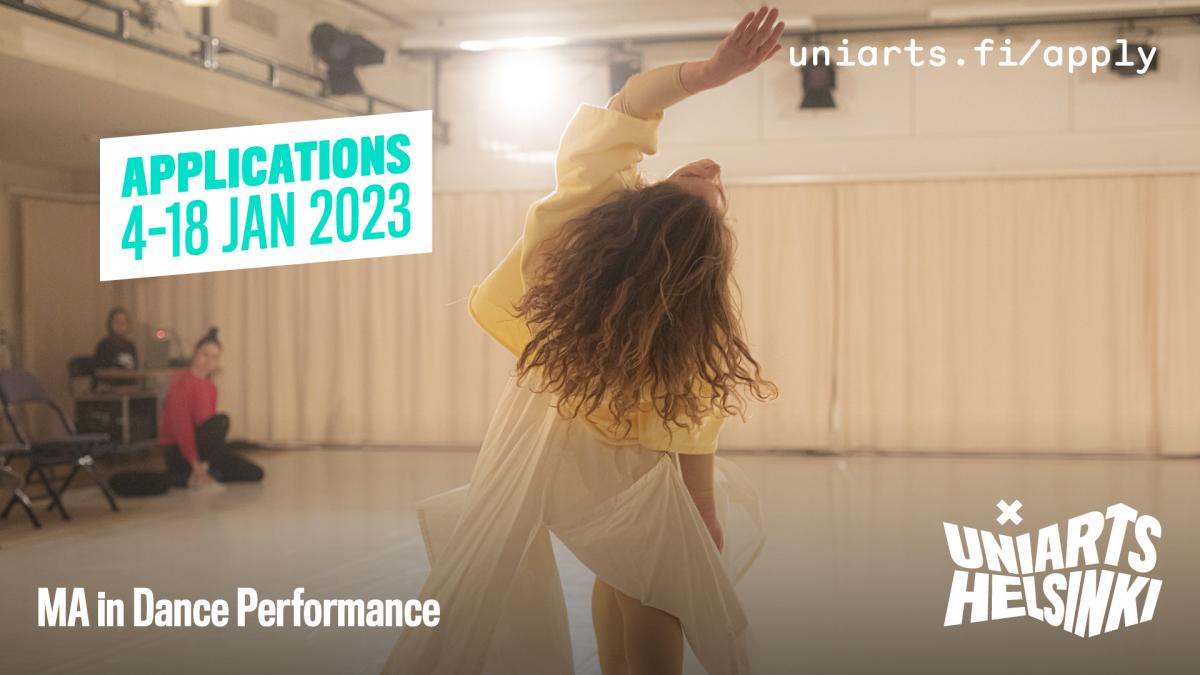 University of the Arts Helsinki
Application period 4-18 January 2023
Please note that the application period ends at 3pm, UTC +02:00.

Master's Degree Programme in Dance Performance is a full-time residential two-year programme, that opens time and space for a diverse exploration of performance practices within the frameworks of dance and related contemporary art forms. The programme emphasizes artistic research orientated approach towards dance performance and embodied practices.
The studies offer a collegial platform for artistic experimenting and dialogue. During the studies, the student will build up and deepen skills and practice-based knowledge as a solo performer, as well as an active and reflective member of an artistic working group.
The studies include collaboration with other degree programmes as well as a section of optional studies, that can be pursued in multiple ways, as training in professional field, courses in the Uniarts Helsinki or as own artistic projects.
The programme encourages students' applications from diverse cultural and experiential backgrounds. Primary language of the studies is English or Finnish, depending on the current student cohort.
Please note: We are in the process of rewriting the curriculum.
Tanssitaiteen blogi
Tanssitaiteen blogi on perustettu alustaksi, jolla keskustella erilaisista tanssitaiteeseen ja sen tekemiseen liittyvistä kysymyksistä ja havainnoista. Blogin kirjoitusten kautta pääset tutustumaan tanssitaiteen opiskelun arkeen opiskelijoiden ja henkilökunnan näkökulmista, ja lukemaan ajoittain ilmestyviä opiskelijoiden ja opettajien haastatteluja.
Uusimmat julkaisut
---
---
Seuraa blogia