Academy of Fine Arts Alum Felipe de Avila in residence: ISCP 2023
Describing the experience of living in one of the world's largest and most vibrant cities for six months is no simple task. The brilliance of the city lights still dazzles my eyes, and the buzz of the "city that never sleeps" continues to resonate in my memory. For a time, I was part of it, walking its streets, exploring its corners, and engaging with people from all over the world who, for one reason or another, have come to know or live in New York. It has been a month since I returned to Finland, and as I write this text, the emotions I lived during my residency period are still vivid, prompting me to share my experiences and insights with you, gratefully acknowledging the opportunity granted to me. With impressions still settling in my mind, I wish to share a glimpse of my journey, my learning, and my modest accomplishments during this time, all with a sense of sensitivity and clarity.

However, one must recognize that the perception of time and events during a residency differs from that which an artist or researcher experiences within their customary work. Therefore, I kindly ask the reader for pardon should I stray or inadvertently leave gaps in my narrative. Removed from one's comfort zone and immersed in an alternate reality, our perceptual captures tend to emphasize nuances that in other situations might remain in the background or even assume greater prominence than usual. The intense dynamism of the sprawling city and the diverse array of stimuli and perspectives it offers or demands to be assimilated or relinquished must be taken into account.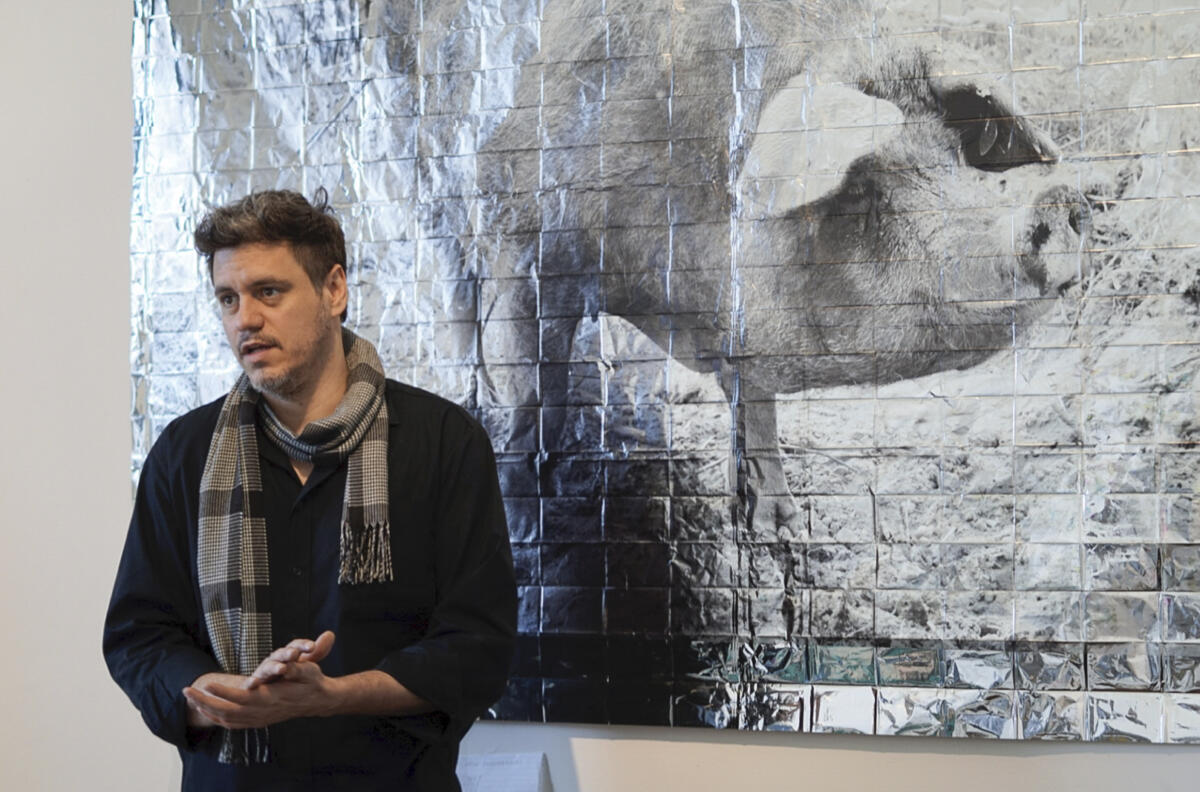 From the outset, the international residency program at ISCP held immense promise. The program's offerings span a wide spectrum, encompassing participant and guest lectures, monthly social events, internal professional meetings, interactions with curators and cultural agents, as well as field trips to art institutions and cultural spaces in New York and its vicinity. The opportunity to advance my research, present my works, and receive feedback from fellow artists and cultural agents was particularly noteworthy. Engaging with these professionals, whose backgrounds greatly diverge from my own, and operating within the context of a megalopolis, has enriched my understanding of New York's artistic dynamics while enabling the expansion of both my personal and professional network.

In broad strokes, my work seeks to explore the interstices between sculpture and other media by probing questions of materiality, with a keen focus on environmental aesthetics. My research often involves the integration of industrial debris or waste collected from contaminated areas, thereby inciting a more profound discourse regarding humanity's conflicted relationship with itself and the natural world. This juxtaposition of concepts – nature and chaos, order and territory, corporeality and space – fosters a platform for dialogue. The prospect of developing the kind of work to which I am dedicated in New York required an examination of how the residency program and the city itself would impact my research. It entailed a consideration of how this opportunity would contribute to my investigations and artistic practice. These reflections informed the development of my application, outlining my intentions and ideas while contemplating potential outcomes and future benefits

Arriving in New York at the start of January, during a winter season that, even without snow, proved to be intense and present, I immediately secured access to the studio and other facilities at the residency. I began acquainting myself with the vicinity of the building and the broader Brooklyn area, mapping routes, identifying locales, stores, and service providers that might prove useful in my project's development. In a city as vast and bustling as New York, logistics can be challenging, especially when one is unfamiliar with where to source specific necessities, particularly in the case of specialized materials and equipment. As my proposal involved collecting materials from specific geographic areas, this initial phase was intensive yet remarkably productive

New York is divided into five boroughs, with Brooklyn being home to the residency. Brooklyn stands as a cosmopolitan area, akin to all of Manhattan, and is renowned for the diversity of its communities, imparting the region with a friendly and relaxed atmosphere. Much like most of the city, Brooklyn felt secure and hospitable. People, on the whole, were forthcoming and amicable, making interactions relatively straightforward. Even amidst the hustle typical of a major city, individuals were often willing to assist and offer information. It was possible to engage with them, initiate conversations when seeking directions or entering commercial establishments.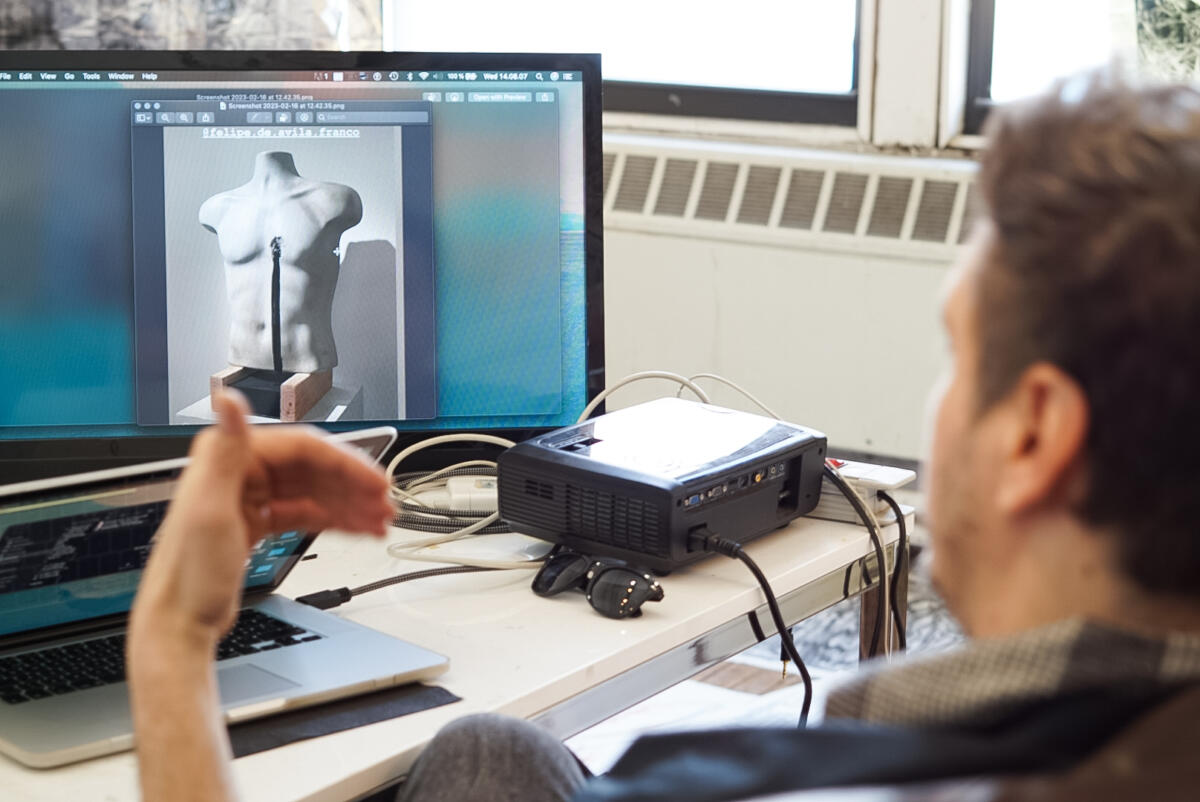 The various program activities I mentioned earlier, including visits to cultural spaces like galleries and museums, as well as presentations and group activities, served not only to deepen my understanding of the city's artistic and cultural dynamics but also to foster camaraderie among participants and promote integration within the local artistic community. These moments provided avenues for enriching conversations, exchanging experiences, enjoying camaraderie, and fostering collective growth. These instances proved pivotal to the residency's success. Interestingly, despite the city's perceived competitiveness, participants maintained an atmosphere of respect, mutual support, personal assistance, and even technical aid. Whenever necessary, everyone contributed in some form – aiding in locating materials, services, sharing insights and experiences, and offering guidance. Such details truly make a difference when navigating an unfamiliar city, especially during particular moments of research or project-specific work.

Certain technical aspects of my proposal, particularly those concerning material collection logistics, required slight adjustments due to various factors, primarily the winter cold. The research I had set out to accomplish was based on the collection of organic materials from contaminated areas, mainly the Gowanus Canal. However, the intense cold made extended outdoor stays unfeasible, necessitating an adaptation of my proposal and a shift of fieldwork to other localities, including the Newton Creek and the Greenpoint area. These regions were closer to the residency, and I discovered similar materials in comparable conditions for the continuation of my project. Simultaneously, this change proved exceedingly beneficial for the advancement of my ongoing project. It allowed for the exploration of new perspectives and the in-depth exploration of more complex conceptual and immaterial elements. This alteration occurred suddenly yet organically, with crucial input from the local community, program mentors, and fellow participants.

This incredible social dynamism that permeates the city also afforded me opportunities to participate in group exhibitions, including those at the School of Visual Arts and at the Finnish Cultural Institute in New York (FCINY). In turn, these activities opened doors to collaborations in other ongoing projects with considerable potential. The opportunity to create and showcase original works, as well as to expand my personal and professional network, unfolded organically and effectively. This would later prove highly beneficial during the Open Studios event, an integral part of the ISCP program. On this occasion, I could directly engage with local and international cultural agents whom I had previously met and invited to attend the event. Participating in the ISCP Spring Open Studios 2023 was also a valuable opportunity to witness how other professional artists develop their research and engage with the city and the program, translating their practices into a fast-paced and chaotic yet brimming context of possibilities, challenges, and opportunities.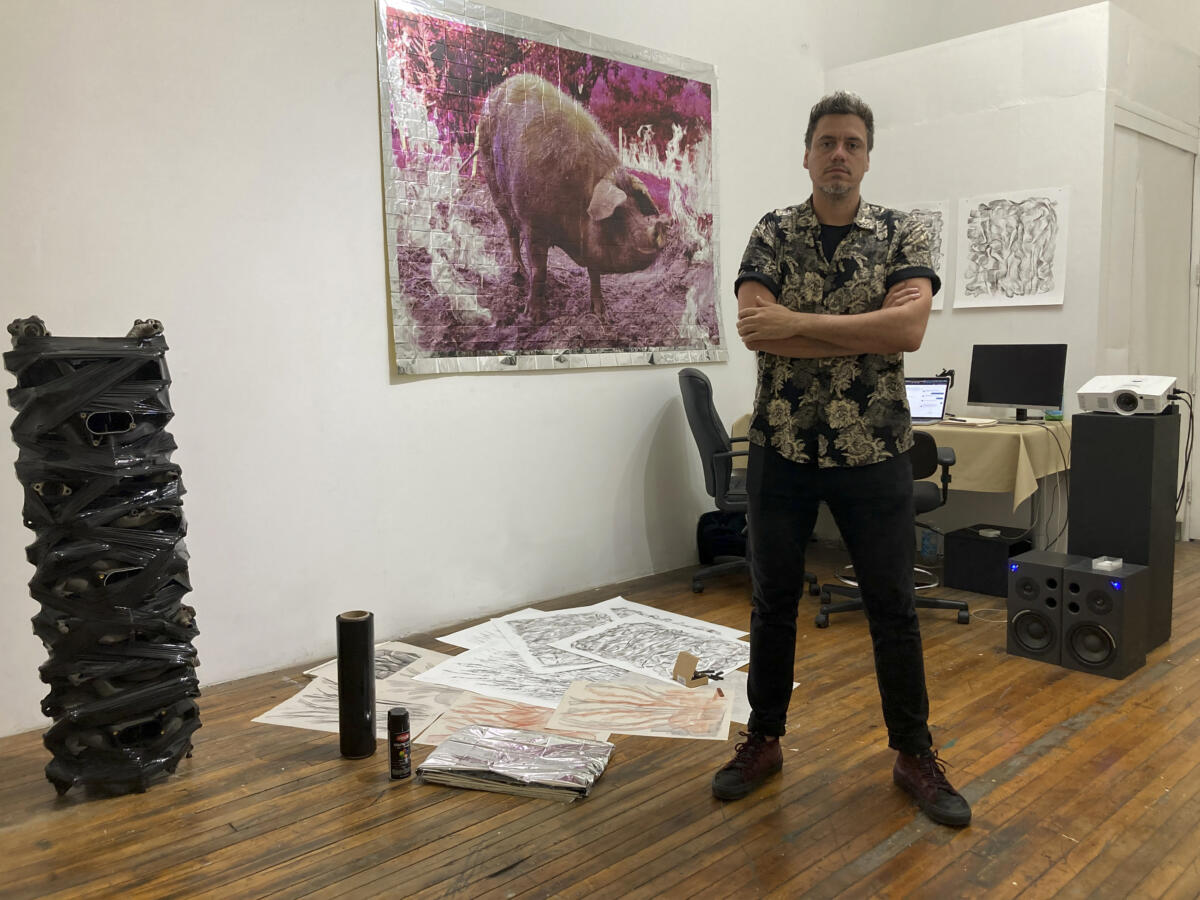 In a general sense, the city exerted a profoundly positive influence not only on my initial research proposal but also on various other aspects of my work. Immersed in a culturally diverse and incredibly dynamic setting, my strategies, methodologies, stylistic choices, and presentation solutions underwent notable shifts. Moreover, the artistic concepts that fuel my creative process underwent transformations, unearthing a new wave of ideas and insights that continue to shape my evolving project.

At this point, it's evident that the encounter with New York's cultural and artistic diversity has not only positively impacted my artistic perspective and practice but has also prompted a reconfiguration of my world view across multiple dimensions. This has led to deep contemplations about my own culture, personal journey, and role as an artist, alongside considerations of future approaches. While it might be too early to definitively state how this experience will ultimately impact my trajectory and, more broadly, my understanding of art's role in society, it is undoubtedly a process that has been initiated and will continue to evolve even beyond the conclusion of this residency period.

I extend my sincere gratitude to the entire ISCP team for their warm welcome and their dedication and professionalism throughout the residency. My thanks also go to the Saastamoinen Foundation, the Academy of Fine Arts, and FCINY for facilitating this enriching experience.

I'm equally thankful to the artists and curators I had the privilege of meeting during the program. Beyond their remarkable skill and commitment, they have become true friends, enriching my life in meaningful ways. I look forward to the opportunity to return soon to the unforgettable and vibrant NYC.
Taideyliopiston alumniblogi
Alumnimme ovat äänessä tässä blogissa ja tuovat uusia tuulahduksia taiteen työkentiltä.
Uusimmat julkaisut
---
---
Seuraa blogia