Embodying Complexity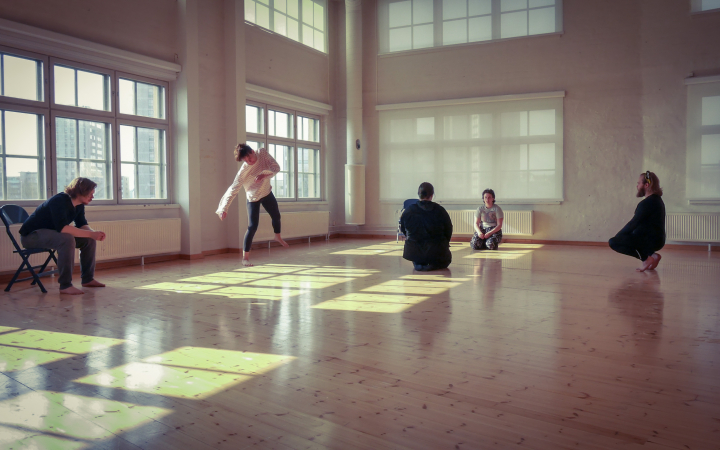 13.5.2019
written by Yuko Takeda
The Imagination of Violence- atelier 2: Sacrifice and Playing the Victim ended with a 2-day reflection. For the first day, Davide arranged a collective reflection session with the students for three hours. It was focused on the content of the course. And for the second day, I arranged a 30 to 40-minute interview with each student for more personal reflection.
Many things were said, and it is impossible to write them all down. But I'll try my best to mention the things that highlighted the nature and effect of the course and the individual learning processes of the students.
Collective reflection
Davide spread out four big sheets of paper in the room and asked the students to write down their responses freely to the four questions regarding the content of the course:
1. What was beneficial for you?
2. What was challenging for you?
3. What would you suggest to improve the course?
4. What questions do you have now for further research or acting?
The students spent about 30 minutes to jot down their answers, hopping from paper to paper. Then they gathered around one sheet of paper at a time to discuss and expound on the answers with Davide.
Generally speaking, the framework of artistic research and the explorative attitude toward acting in the course were appreciated by all the students. They were able to try out different ways to develop their own monologues and scenes to a certain degree. Also, getting familiar with formulating questions and hypotheses and conducting research seemed to foster new awareness of the nature of acting and the role of the actor for them.
But the experimental approach in the course caused the equal amount of challenge for the students as well. It generated more responsibilities of managing time and energy to work on multiple projects (academic research, writing one's own text, scene work, acting experiments, etc.) simultaneously and making decisions while experimenting. Who should decide the way to work on something? How can those decisions be made when there is more than one person with different ideas?
All those challenges were strongly related to the improvement suggestion for the course. The consensus among the students was that they would have appreciated more time and fewer projects and more reflection at various stages of their work. Many of them thought that those things were necessary to feel more engaged and autonomous about their creative processes. Some of them also mentioned the improvement or reevaluation of the way the teacher evaluates the work of the actor. Are there any other words than "good" or "bad" to describe the work? This question had to do with pedagogical and ethical awareness that should encourage a process-oriented, curious mindset for the students.
This is a sensitive, complex issue in a course like this, where there is no clear standard articulated for the quality of the work. In the course, Davide encouraged the students to build their own methods to practice acting. It is no easy task because when building one's own standard to evaluate quality, one cannot really ignore the factors that are not really in their control (ex.) people you work with, the style/genre, the audience, etc.)
In any case, whether Davide had originally intended this or not, the course undoubtedly made the students aware of bigger and more complex structures and systems inside and outside the course and how powerful and "violent" those invisible things could be.
The last question: What questions do you have now? reflected the personal challenges the students faced in the course. The questions speak for themselves. Here are some:
How can I work with vulnerability outside of a gendered frame of reference?
How can I exist outside the traditional/normative frame of an actor?
How, with what and with whom do I want to work?
Is there a way to create a personal, free and creative space without feeling the limitation of time and space given by others?
… etc. etc.
Interview with the students
I also asked four question in each interview:
1. How would you describe your learning process in the course (challenges, discoveries, attitude, questions, etc.)?
2. How has the course affected your view on violence, sacrifice and playing the victim?
3. How has the course affected your acting or your concept of acting?
4. What would you like to do in the future?
In the following summary of the interview, I refer to the students as Student A, B, C, D and E in order to respect their privacy.
Learning process
Each student had his or her unique, personal challenge to deal with throughout the 8-week course.
While attending the course, the students were also working on their bachelor's essay, the assignment they had to turn in to finish their bachelor's program and move onto the master's. This bachelor's essay was present as one of the stress factors in the background for some of the students in the course.
Student A referred to it as a possible cause for her lack of enthusiasm and full commitment to the course. She wanted to be 100% engaged in the course, but because there were other things happening outside the course she had to deal with, it was not possible. At some point, she decided to not blame herself for it, but instead work with whatever she could find interesting in the moment. She then started taking ownership of her monologue and research. Towards the end she was able to work on concrete, specific things, taking her time and without panicking.
Student B also referred to the bachelor's essay as a factor that influenced her learning process in the course. B was curious and motivated in the beginning. But in the middle of the course, she started to feel exhausted due to the workload, including the bachelor's essay. Exhaustion made it difficult for her to meet the demands of the course. For B, this situation somehow generated inner resistance towards the course and questioning how it was structured. She then stayed with this questioning and became more aware of her philosophical, theoretical interests and issues regarding theatre and the role of the actor.
Student C was struggling with strong apathy and emptiness towards acting. He mentioned my physical training as a turning point in his learning process. His effort to practice simplicity and trust in his own body illuminated more fundamental issues about his identity and desires. Who am I without a mask? What do I really want to do? His challenge was intensified as the course demanded to explore different masks for his acting. He felt split between the need to shed anything extra in his acting and the urge to do intellectual gymnastics for his research and monologue. He's still searching for a resolution to his struggle.
Student D felt a degree of frustration with the academic side of the course. He thought that he didn't have enough vocabulary or knowledge to find suitable resource and material for research, although it was inspiring to try. He also had difficulty taking in other people's suggestions for his monologue because he had had his own ideas and intention for it. He ended up liking the changes he made to his work. Nonetheless, it was a process for him to learn how to collaborate with others without sacrificing too much of his artistic integrity.
Student E felt like throwing herself into the course with an open mind. She experienced confusion and fear in the very beginning when had to work on her personal question about acting. But after a while, the course opened something in her. She started to be able to work in peace, learning a lot about herself, feeling less insecure. She also enjoyed research by pursuing her interest and being open to experimenting on the question. She now has lots of questions and things she'd like to continue exploring after the course.
View on violence, sacrifice and playing the victim
All the students acknowledge that the course had affected them to become more aware of the complexity of playing the victim.
Some students felt moral and ethical resistance towards exploring the theme in the beginning, thinking that it's just wrong and perverse.
But as they continued working on it, they realized how deeply rooted and commonplace it is in our daily life. In fact, the students admitted that they themselves often play the victim in their lives. And they also found out that playing the victim is not just about being manipulative and perverse. Sometimes playing the victim and being the victim coexist in a situation. It's not necessarily "bad," it's just human.
One student elaborated this point further by mentioning how the narrative of the victim was the driving force for many major social changes such as Human Rights Movement, the rise of feminism, etc. Victimhood can be power. And when there's power, anything can turn into violence.
Few of them talked about the theme of sacrifice because it was somewhat overshadowed by that of playing the victim.
And as to the biggest theme of all- violence, the complexity of it was unquestionable to the students. When a person is violent, there are so many factors and layers involved (social, psychological, cultural, biological, etc.) that it is hard to blame the person for being violent although the act of violence itself is condemnable. There is also the structural level of violence, which is so prevalent and obscure that very few of us are aware of it. And even if we are aware of it, eradicating structural violence is extremely difficult. One student mentioned how theatre as an institution could be violent with a strong hierarchical structure in place.
View on acting
Each student's answer to how the course affected their acting varied and was specific to each. But now they all see acting as something much more than pretending to be, portraying or representing someone else.
Some of the students were interested in learning acting with the body as the starting point and the ultimate source. They said that they'd like to continue working on the sensitive body, bodily interconnectedness, whole-body listening and Viewpoints in their acting practice.
One student thinks that there's no rulebook for acting and that acting is much more complex than any one method. Therefore, she'd like to be able to try as many tools or methods as she can and choose what works for her to challenge and expand her capacity as an actor.
Another student sees acting as an opportunity to transform her personal curiosity into artistic experimentation.
Those views seem to have been influenced by the course's artistic research framework. And the critical, inquisitive attitude of an artistic researcher was also present when one student said that everything she could say about acting could be questioned.
All in all, it was very clear to me, after listening to the students, that the course expanded their perceptions on acting or what it could be.
Future
I asked the last question: What would you like to do in the future? as a fun one. Sometimes imagining the future self can give room to appreciate the present and reason for tomorrow. Anyway, without getting too personal, I'd like to list some of their answers.
I want to make movies, both short and full-length. I want to write the script, direct it and act in it.
I want to take lots of classes.
I want to see what my voice and body can do and find out what my artistry is.
I want to be the person that's nice to be around.
I want to open up to receive life and challenge myself to be me.
I just want to make really cool feminist art, travel with it and see the world by working.
I wan to live and work on the boat.
I want to do more research.
Making art is my dream. So, I'm very happy where I am now. It's hard to think about the future because I'm happy now.
When I'm 70 years old, I'd still like to be an actor, doing things on the stage.
.. etc. etc. Dreams are endless.
It is difficult to put final words to such an intense, complex, long process. But here we are, at the end, and yet still at the beginning of something bigger and greater.
I've felt very privileged to be a part of the course. Although it was full of challenges and difficulties, to me, it was a process of honesty, revelation and humanness. It went beyond the research on violence.
Each student came out of the course as a complex, rich human being and artist. They embodied such complexity. It was felt in their struggle to describe their processes and in the silence they fell into when contemplating on their potential and future.
I wish them all the best.
Last but not least, my deepest gratitude and respect go to Davide. His initiative, tenacity and courage for this course were my constant inspiration. Thank you, Davide, for having me in your project again.
The journey continues…
Great work!
Acting as Expertise
In this blog you can follow activities conducted by S-program (Degree Program in Acting in Swedish) and partners. The activities can be courses, workshops, research projects, interventions, seminars etc. The overall aim is to experimentally explore different visions of an actors "expertise" and which functions it may have in relation to society and the artistic field.
Latest publications
---
---
Follow blog