Interview with Markus Rissanen, an Artist and the Academy of Fine Arts Doctorate Alumni
Interview by student ambassador Elle.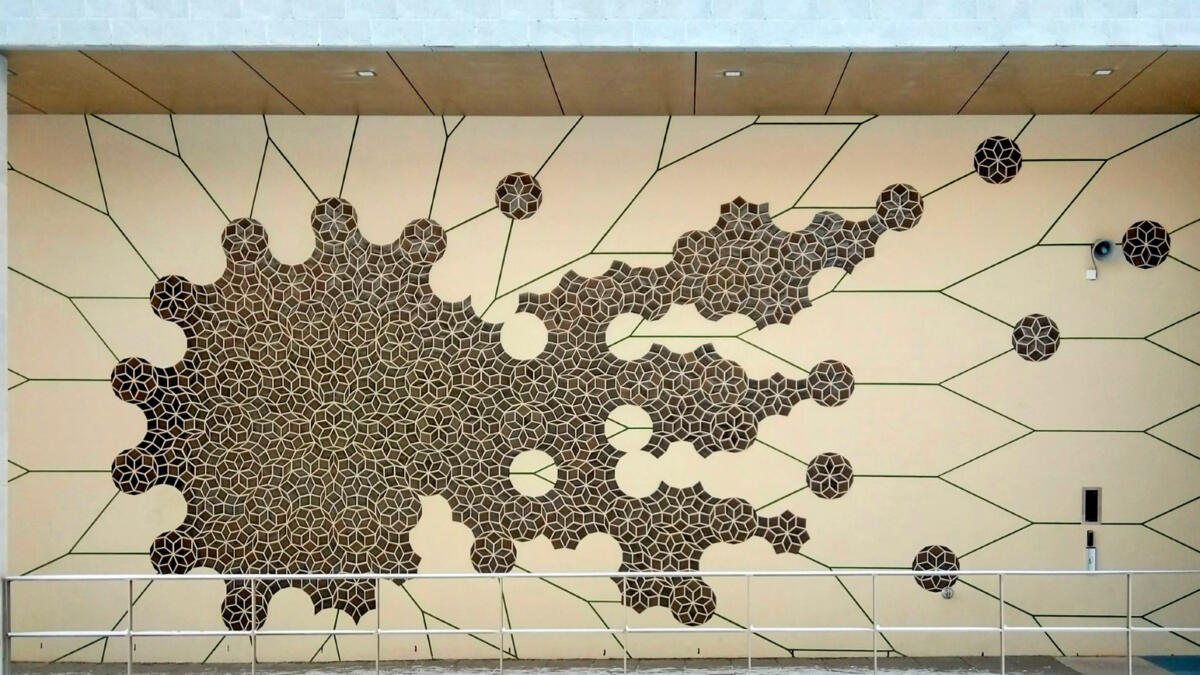 Years ago in the first weeks of starting my bachelor's degree at the Academy of Fine Arts, I was wandering through the stacks of awe-inspiring books in the library. I came across a book with mandarins on the cover titled, 'Basic Forms in Nature.' I read the whole thing with great resonant interest. Several years later I was thrilled to interview the author, Markus Rissanen, a doctorate alum of Kuva. A super smart artist who combines math, engineering, colours and science in their incredible art pieces. The most interesting thing I saw in his studio was auto-fungi. Fungi combined with cars that are the dominant species in an alternative future. A work for an upcoming exhibition. Read on for his wild story and top tips on how to succeed as an artist…
How long did it take you to complete your doctorate degree?
The book is the fruit of 10 years of work.
What has been your study journey?
Well, it was not a straight one. I mean, after the matriculation exam, I studied architecture at the University of Tampere, but I quite soon realized that that was not my field. I was very interested in structures, forms and geometry. But I just couldn't get into this kind of human approach thing. So I studied mathematics at the University of Helsinki. I was really interested in mathematics.
I had quite high goals for myself, but I soon realized there that I won't be a sparking genius in the field. And I was disappointed that this is not what I was looking for. I don't want to be mediocre. Somehow I became interested in contemporary arts. I had been drawing all my life for as long as I remember, always drawing something. I wasn't considering that as a profession. But then an idea started to develop. I searched how is it possible to become a professional artist. This was the time when I first discovered that there's this school, this Academy of Fine Arts. I applied, with some drawings and works that I am embarrassed about now, and the next spring I got in. In between, I went to do the military service. So I started one year later after I had the studying place. And that's more or less the road where I still am.
I did the bachelor's and then this master's degree. There were 6 years before I started the doctorate program. At first, I didn't think of it too much and it seemed quite a distant thing that I wasn't quite sure about what it is. It took a few years before I got some ideas of what might be possible for me to do. What kind of things I could research and then I became kind of certain that, okay, I still want to continue the studies. I applied for the doctorate program, got in and I started there in 2007.
What was the process of getting into the PhD program like?
There was an interview and you had to make this rough plan about the research. A kind of research plan. It was polished in the process of applying. You received some feedback from the group which was making the selection. It wasn't written in stone from the beginning, but it was actually expected that you will later edit and transform it as this research happens to go on.
Of course, there were so many things that I couldn't anticipate in the beginning. The result was much, much better than I could have ever thought. The initial plan was far too narrow. Sometimes things felt artificial. Somehow I just kept pushing things together and there's this kind of forcing and somehow these things kind of worked out and found a way to combine.
At some time during my doctorate studies, I questioned, is it more important to work on the research questions/plan than do the actual work? Because the plan is a roadmap and then at some point I realized that I'm actually doing something else than what's this there. Then this question of where should you spend your time and energy? Should you really just go on working or should you put your energy into editing this research plan? This was out of sync almost all the time. This research plan was just a tool to get the thing done.
What did the research plan look like?
A few pages and some kind of rough timeline sketch. It was very optimistic, like four or five years. In reality, it took double the time. But I think that's what usually happens to almost everybody. It was kind of a way to start the process.
What kind of things from the Doctorate program benefitted you as an artist?
At least one very practical thing was that I eventually got funding at the end for four years from Kone Foundation, which was quite exceptional for me because I hadn't received grants longer than one year before.
What was the greatest challenge?
I got really stiff with the idea that now I have this official research plan and how should I adopt my artistic work to fit with this one. Either consciously or unconsciously it got the whole artistic process very, very unflexible and rigid. That was a lot. At some point, I just thought, to hell with the research plan, now I'm just doing whatever I want in the painting and then later on only I will see if it actually has any connection. But it's very hard to forget this theoretical roadmap while working in the studio. Because you have always at the back of your mind that this show will be examined as a part of this thesis. It was divided that there's the theoretical part, this written book, and then the artistic part, a few exhibitions. So every time you make work for some exhibition, you are thinking about how does it fit the research?
I never found a good solution. Somehow you just have to manage with that and go on and find some way to work.
What other challenges did you face while studying or after studying?
This financial challenge after the PhD.
After the doctorate, I made some plans for postdoc research, but those didn't work out on the theoretical level or financial level. It was a bit too big and complicated of an idea to combine with artistic things. It was more of a theoretical mathematical idea.
New ups and downs came after finishing the doctorate then. For example, trying to think, what is this artistic work again? And where should I head now? I was exhausted. I felt that I didn't have any fresh ideas for the artistic work of where to continue and what to do next. I felt that I'm so far that I have exhausted all the ideas that I had been working with. It's frustrating and difficult to find a way to have new, fresh ideas and gain speed.
What did you do when you were stuck and ran out of ideas?
I decided to stop making art. It also was at the time when I was going through a divorce. Yeah. I was feeling that I'm really stuck with the arts. I have two kids and had no certain way to earn a living in the future. I wasn't getting any grants
Then I thought that, well, I have these talents that I haven't been able to use enough in arts and where could I use these talents in a way that I could also earn a living or they could be more efficiently used? I thought, okay, I will, stop making art and try to apply for medical school to become a doctor. That's what I did for two years to try to get in. It was refreshing to have these courses in physics and chemistry.
Then corona began and I had to look after the kids. Also, the pointing system changed so that all of my points collapsed. So really I had no more realistic chances to get into med school. That was the end of the process. I thought now it's time to do something else.
Fortunately, there was this public artwork thing that came up at an elementary school in Myllypuro. An architect, who was building a new wing, knew me and my interests in geometry, maths and structures. He called me and asked if I'm interested to design an artwork for the building. My sketches were accepted. It took one year to complete because I couldn't work during winter as it was on an outer wall. It was done with the ceramic tiles. It was a very interesting, hard project and a very good experience. It was very, well funded.
How many of your opportunities have you found yourself or from people knowing you? What are your thoughts on networking?
I'm quite lousy at networking. It's almost always that when something happens, it becomes just one coincidence or this kind of serendipity thing. Quite often when you have a clear vision that you want to do something and then you put a lot of energy to try to get things done, usually nothing comes out of those for some reason. Then these things which somehow gain momentum and pop up around the corner. It's kind of strange. Interesting. It's difficult kind of rely on those things, to rely upon that something will happen.
Looking into your future where are you going and what skills do you want to learn?
I found that I have more things going on and ideas than I have time for. Of these ideas, some are mathematics and some I don't know what they are or if they are art. One thing about the skills, I've become quite interested in working with stone in the past few years. It's somehow very fascinating and very different from painting. It's so physical that you get into this meditative mood that you really have to concentrate on what you are doing, not to break the whole thing. If you make a mistake, there's no way to correct it.
-Elle
Life of an art student
In this blog, Uniarts Helsinki students share their experiences as art students from different academies and perspectives, in their own words. If you want to learn even more regarding studying and student life in Uniarts and Helsinki, you can ask directly from our student ambassadors.
Latest posts
---
---
Follow blog