Music can transcend cultural barriers and bring people together in harmony – Global Music students' visit to Jordan
At the start of March, a group of Sibelius Academy's Global Music students travelled to Jordan to have a collaborative music making week with Syrian refugee kids living in Jordan. Students also participated in the Education and Community Fund of the city of Al Azraq, located in the Central East of Jordan.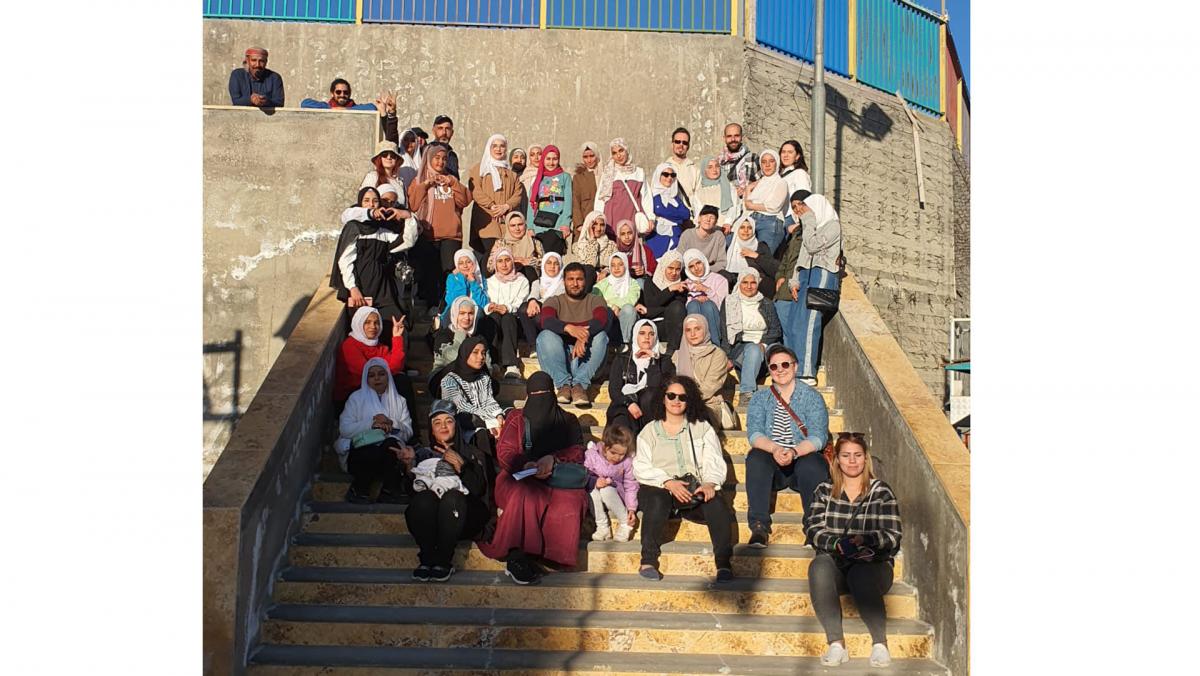 The workshops were facilitated and conducted by Global music lecturers Nemat Battah and Puro Paju, a group of bachelor's, master's and doctoral students: Ana Lazar, Sami Karkar, Merve Abdurrahmani, Viivi Maria Saarenkylä, Jussi Reijonen and Shafeeq Al-Sadi.
The key outcomes were to bring music making and creativity to the daily life of the kids of Al Azraq even for a short time, and to give the global music students the experience of working in an international environment and getting to know the community of Al Azraq, which is a host for many Syrian refugee families.
''The long-term goal is to go there again with different students each time and help create a sustainable music project that can be led by a local musician(s) in the future, which will allow the kids to have music as a regularly taught school subject like any other subject'', says Global music lecturer Nemat Battah.
On this blog post, you can read Viivi's, Merve's and Jussi's thoughts about the visit.
Q: Can you introduce yourself briefly: Your name, artistic work and background
Jussi: My name is Jussi Reijonen, and I am a composer, guitarist and oud player working in transcultural musical contexts.
Viivi: My name is Viivi Maria Saarenkylä. I am a Finnish accordionist and composer, finishing my final master's year at the Global Music department. Alongside studies I've been touring internationally performing my original music.
Merve: Terve! I'm Merve Abdurrahmani, a pianist, singer, and composer pursuing a Master's degree in the Global Music department. I am passionate about working in a variety of projects, including arranging and composing music inspired by diverse traditions from around the world, such as Balkan, classical, pop, and jazz. As an improviser, I'm always searching for new sounds and ideas, and I strongly believe that curiosity is the most important element of creating art and living a fulfilling life. As a music educator, I enjoy sharing my knowledge and enthusiasm for music with students of all levels.
Q: What was your own role in the project?
Jussi: I worked as a music instructor together with the other members of our group.
Viivi: I was teaching and leading music workshops for the local kids together with the project team. I was teaching Finnish folk dances and body percussion exercises, and supporting others playing accordion and singing.
Merve: I was part of the group of students from the Sibelius Academy, working alongside other musicians to teach music to local kids in Al Azraq. In our workshops, we explored music from various parts of the world, incorporating body percussion, improvisation and also drawing to make it fun and interactive. It was an amazing experience to work with such a talented group of educators and help the children discover the beauty of music.
Q: What were your personal learning outcomes from this project?
Jussi: Working with the students in Azraq was a beautiful reminder of how undefined the divide between "teacher" and "student" is. I feel I was taught so many lessons about life, it'll take quite a while to absorb it all.
Viivi: It was truly inspiring to see the enthusiasm of the local youth to jump into unknown and try new things with a lot of excitement and eagerness to learn.
I also learned, that even without being a professional educator, my skills as a performing artist and a musician are more than enough to help me share the joy of music and create meaningful experiences for both myself and for the kids whom I had the honour to work with. The most important thing was to have an open heart and mind.
Merve: This project has taught me many valuable lessons, such as how the smallest things in life, like a smile or a hug, can bring so much happiness. As I witnessed children's faces light up with joy and wonder at the magic of music, they taught me to be more present in the moment and enjoy everything that is happening around me.
The enthusiasm displayed by them towards learning inspired me to explore new teaching methods and discover innovative ways to create music lessons that would be inclusive and accessible to students from all kinds of backgrounds.
Through this project, I also gained a deeper understanding of music's ability to transcend cultural barriers and bring people together in harmony. This has been an incredibly fulfilling experience, and the memories of our time together will always hold a special place in my heart.
Life of an art student
In this blog, Uniarts Helsinki students share their experiences as art students from different academies and perspectives, in their own words. If you want to learn even more regarding studying and student life in Uniarts and Helsinki, you can ask directly from our student ambassadors.
Latest posts
---
---
Follow blog