Winter survival blog
Tools for surviving Finnish winter from student ambassador Elle.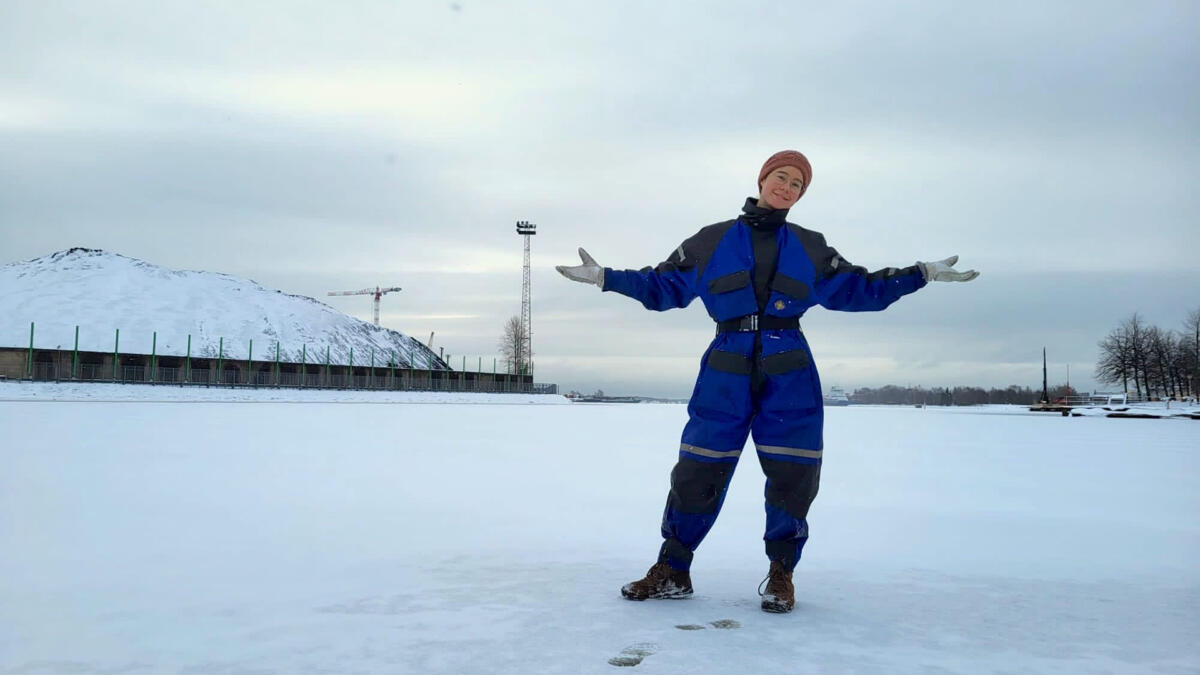 Dearest reader, as the summer drifts away you might soon realise that the layer of blubber you accumulated might be enough for the penguins to stay warm and happy, but not you. The cold days are coming. Maybe they are already happening if you are reading this in the future. But have no fear. This winter guide, written by a wise Australian explorer, will keep you not only warm but brimming with vigour and prowess.
The tools in this toolbox in a nutshell:
CLOTHING – put on more clothes until you are warm.
CYCLING – winter tyres and bike maintenance.
SWIMMING – get in the water.
EMBRACE IT – grrrrrr wooooo. love the weather unconditionally.
HEALTHY LIVING – look after yourself really really really well.
Clothing
A wise grandma once said, 'there is no bad weather, just poor choices of clothing.' She was very correct. I follow this simple rule: if you are cold, put on more clothes.
In Helsinki, there is a group of second-hand stores called Uff. Every month or so they have a sale where every piece is 1€. This is a good time to get lots of winter clothes. I would recommend buying second-hand wherever possible. Kierrätyskeskus, Tori.fi and the plethora of other second-hand stores are also great options. I highly encourage you to wear colours because rainbows are the best.
On YouTube, you could watch some videos on winter fashion tips according to your style. The most important tip is layering. On a normal winter day, I have two pairs of socks, two pants, three tops, one or two jackets, two gloves, one scarf and one or two beanies. Anything that is wool, cashmere, cotton or another natural fibre I prioritise.
Always bring a spare warmie with you! The times when I have suffered the most is when I leave the house thinking, 'oh it is so warm, I will be fine.' Always carry more clothes than what you think you will need. Think of it as if one of your friends might be cold.
Put on more clothes until you are warm.
Buy second-hand.
Find fashion advice and tips.
Bring more clothes than what you need.
Cycling
If cycling isn't your cup of tea you may skip this section, or get a bicycle. The biggest key to winter cycling is winter tyres. They have metal studs that magically grip the ice and are an essential must-have. Put them on as soon as the sleet starts and keep them on until the snow has fully melted.
There is a wonderful place called the Helsinki Bike Kitchen where you can fix and maintain your bicycle for free. They have all of the tools, an abundance of spare parts and friendly volunteers who know the answers to everything. Keep your bicycle in good shape. Keep it inside if possible. The cold might make the brakes and gears not work. Definitely have lights and cycle safe and slow.
One of my favourite parts of winter is cycling through snow storms. It is so fun, and wild and keeps you in the moment so alive.
Swimming
Cold exposure has many benefits and one can really feel a positive impact on their mental health and energy. Go for a dip, about once per week, all year round. Once the water freezes, cut a hole in the ice, or find one, and enjoy the magical experience. Cold water swimming shouldn't feel hyped or competitive. In Finland people of all ages practise it. It is something that one does for themselves and we all have unique experiences in the process.
It is good to never stop regular swimming. We usually swim in the warm summer and stop when it gets cold. So whatever the weather is, go for a swim today or tomorrow. Take a friend with you. You can be in for just a second.
Embrace it
Learning to unconditionally enjoy the weather is an important step for humanity to harmonise with the planet. It is quite common to complain about the weather. Whenever I hear these complaints I try to take the opportunity to say something nice about the weather. I have gotten a fair share of strange looks for saying, 'This rain is so lovely,' or 'It was awesome cycling here in this snowstorm.'
Try to find the more subtle joys of bad weather. Once you find them they will become more deep, profound and poetic.
Healthy living
Winter is inclined to wear down one's soul. Fruit is more expensive so there are fewer vitamins. There is no sunshine so no natural vitamin D or the warm invitation to go outside. Maybe other friends are less social. It is up to you to combat these things and do what makes you feel vibrant and healthy. Each of us knows how to look after ourselves. If something is making you feel down, research what it is. Sleep, routine, a daylight lamp, connection with friends, exercise, fruit, chocolate, dancing, goals and naps help me to stay sparkling.
Final words
I believe in you to find your own resonance with winter. Winter is a phenomenon as beautiful as summer and it deserves admiration and enjoyment.
Life of an art student
In this blog, Uniarts Helsinki students share their experiences as art students from different academies and perspectives, in their own words. If you want to learn even more regarding studying and student life in Uniarts and Helsinki, you can ask directly from our student ambassadors.
Latest posts
---
---
Follow blog