Brass cooperation between Finland and Scotland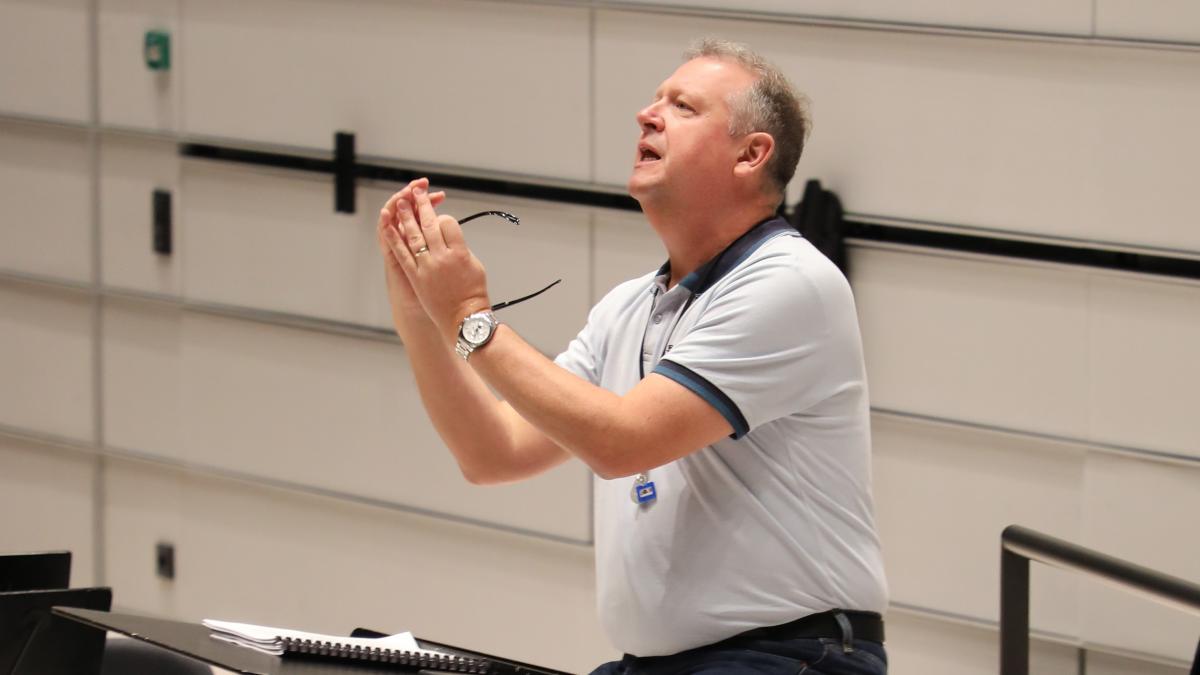 In October 12 brass students from the Royal Conservatoire of Scotland visited the Sibelius Academy, participating in the Sibelius Academy Symphony Orchestra concert production.In return, representatives from the Sibelius Academy will travel to Scotland in Spring 2023 to learn and cooperate. We asked the head of the RCS Brass department John Logan about his thoughts on the project.
What is the Brass department at the Royal Conservatoire of Scotland like? What are your focus points or specialities? 
We are a very close department and support each other whenever possible. We have on average 45 students across BMus and Masters programs and literally have students from all over the world. We specialise mainly on orchestral playing, but also have concerts where we collaborate with Scottish Traditional Music and Jazz.
From time to time we take our brass group on the road doing small concerts, coaching sessions and Masterclass. This is of equal benefit to our students who are actually delivering the classes. Other activities include our Brass Concert for Schools where school pupils are bussed into the conservatoire for an educational concert and for the ensemble to go abroad to festivals such as the VIAF in Gozo, Malta. Recently we performed at the Scottish Parliament in the presence of King Charles 3rd when our queen passed – you may have seen this on TV!
The cooperation between the Sibelius Academy and the RCS is aimed at developing further the orchestra education in our institutions. What does this mean to you and what do you see are the challenges of future professional musicians and on the other hand, the most important skills that they need when they graduate?
Total knowledge of repertoire and appropriate styles of delivery are key for the audition process. I can see the orchestral life of a musician not necessarily changing for its core delivery but adding more diversity in areas of education and technology. As a conductor and teacher, I think it is very important to stress that 'we are all musicians' and are aiming towards creative goals collectively!
This exchange program will enable us to learn from other cultures and from the home team to learn from us as visitors. New and different approaches to teaching are invaluable and can be transferred to others. It is most important that the true skills of a professional musician is practiced whilst being a student, and not something that needs to be addressed when the student leaves the course.
There are many similarities to brass performance and pedagogy in Finland and in Scotland as it is a worldwide subject, however there are always different personal approaches to teaching that can be learned simply by the teachers own experiences and what has been learnt from others. A similarity of both institutions is that we both have a traditional or folk music department. In RCS we collaborate with the other departments and have a group called "Braw Brass' which is a fusion of brass and trad music. Another activity that I am active with in the professional world is bringing the Symphony Orchestra and Trad Music together; orchestra plus fiddles, accordions, pipes etc and we have also embarked on this in RCS. There is huge potential in bringing these forces together in one concert and the cross learning for the students is quite remarkable.
Sounding together
In this blog you can take a look at the international everyday life and hightlights of the ensemble and orchestra playing and singing of the Sibelius Academy's Department of Classical Music, presented through the eyes of our staff and students. Visit behind the scenes of our orchestras, choirs and chamber music activities.
Latest posts
---
---
Follow blog