Interview with Jacintha Damström, a Multidisciplinary Performing Artist and Sibelius Academy Alumni
In this interview series, student ambassadors interview Uniarts Helsinki alumni.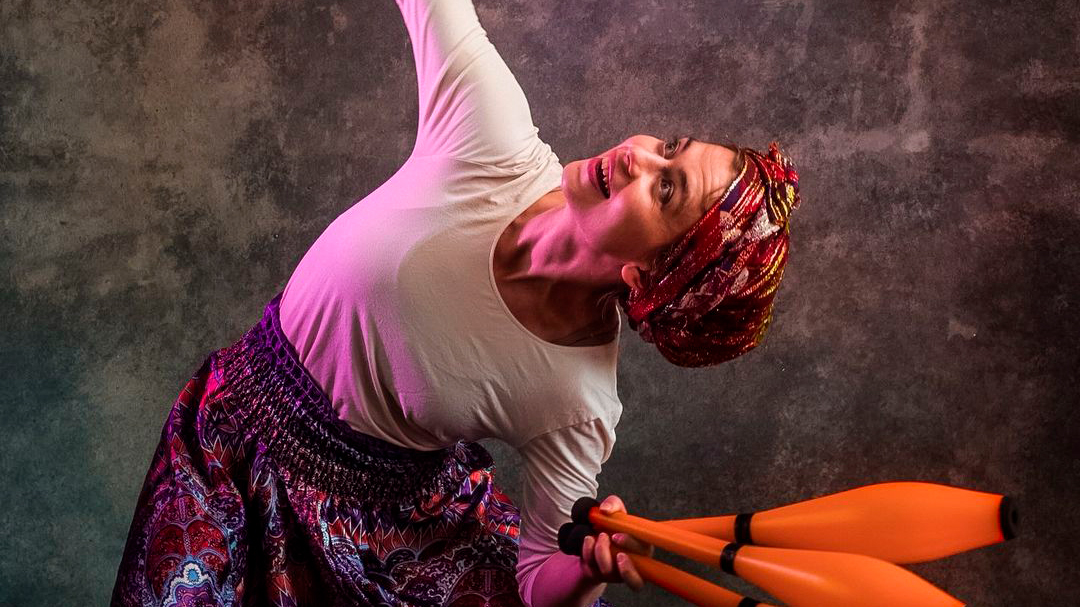 On a warm summer day I had tea and cookies with Jacintha Damström, a flutist, dancer, singer, acrobat, impro artist, physical comedian and alumni of Sibelius Academy. This interview is part of a series with University of Arts Helsinki alumni. The intention is to transfer advice from graduates to students. In a short summary the top nuggets of wisdom that I gathered from Jacintha are ~
Follow all of your interests, even the small ones. All of your practices are valuable and important.
Observe what other teachers or performers do and take note of what they do well or not so well.
Challenging times teach you valuable lessons.
Thinking outside the box is needed in the classical music world.
Boldly tell people about what you are doing and offer your skills.
Grant applications are a wheel that you need to start rolling. Start small and work bigger. Apply, apply, apply.
Have a daily routine that helps you feel good.
Can you begin by introducing yourself and your study journey?
I'm Jacintha Damström and I come from Helsinki. As for my study background; I started with the circus when I was five in a Russian circus. Intensive training was three times a week, three hours every time. When I was six, I was already quite trained, which I loved. I got a very quick start into the performing field. I love circus and have performed professionally in several circuses. On the side, I always had classical flute and singing. Everybody had to be as diverse as possible. A lot of acrobatics, dancing, juggling, playing the flute and singing. A lot of focus went to my body, but very little went to knowledge learning. I wish I would have learnt more about music history and theory.
Since I was 13, I was in the youth department of Sibelius Academy, which is not easy to get into. It helped me to be admitted to the Sibelius Academy adult department, in 2011, because I had the right teachers who could tell me what to do and what to practise. When I was 19, I got injured again in the circus so then I focused on the music. In the Sibelius Academy, I did the Bachelor's and Master, plus the pedagogic package, within five years. For the Master, you could take a 60 points pedagogic package, and that I took, which I'm very happy that I did so I can teach everywhere. During that time I started going to many improv theatre courses and fell in love with it. I would go around Europe to festivals to get inspiration, and soon I taught it myself. I still love to take courses from other teachers, to get inspiration, especially some teachers that are very, very good.
In Sibelius Academy, I had classical singing as a side instrument. Then I got problems with my voice. That was an interesting experience of losing the voice; losing the tool that you think is always there. Also with my right hand, in 2018, a month after graduation I got a nerve injury. These two injuries made me then turn back to do more circus stuff, especially clowning. When I was 16, I had been to a short clown course that inspired me to keep my eyes open every time clowns came. I'm especially inspired by clowns who don't have any red noses. Physical comedians, I would call them. So the physical comedian field really has always been an inspiration for me; to be funny without words.
I kind of feel like in this whole story that Sibelius Academy has nothing to do with your amazing success. But while you were studying there, how did it shape you or what did you learn? Was it what you expected?
Sibelius Academy was a quite tough time for me, to be honest. I didn't like the atmosphere there and I had really hard times getting through, I wasn't very happy. But it made me realise how much I love being creative. Classical music is unfortunately not very creative, especially if you're an orchestra musician. I realised that I have the urge to be more free.
Another good thing is that I realised that there was a gap in the music field, a gap called show. So when I realised that this gap is existing and I could maybe fill it, that gave me new hope of creating something new. In the circus field I had kind of lost hope of finding a gap that would suit me, it's already so filled with good shows. Now I am equipped to teach and the musicians take me seriously. So in that sense I'm very happy that I took the classical music way. Now I can work with classical musicians, communicate with them and speak their language while I at the same time do the thing that is important for my heart.
When you first went into Sibelius Academy, did you imagine that you would become a classical flutist at the end? At the beginning what made you go into the academy?
Sibelius Academy was basically me just being lost with life. My teacher had been saying to me, you're so good, you should try to apply. It was more him encouraging me and my whole family also saying, try to do that. My heart didn't speak to become a flutist at all. That's why it was quite hard for me to be very enthusiastic about the classical flute. I'm very thankful that I did this. It was a good learning experience.
When I did my Master's concert, I was zero motivated until my Erasmus professor suggested that I do the theme with masks. In classical music when you say a theme, it's like the song is called Masks or the song is inspired by Harlequins. But that's it, they have the same boring clothes on stage. It's nothing to do with the show. But I got really inspired by this and took costumes. So without telling it to my professor in Finland, I did the right musical program, I played a baroque piece that you had to play, I followed all the rules, but then I added the layer that I loved, the show layer. My teacher got a shock, but the judges loved it.
This made me realise that it's appreciated. This thinking outside of the box is needed in the classical music world. What I really like in the classical music field right now is that I feel people appreciate me and my weird background. I'm seen kind of as a circus artist in this classical music world without me having to break my whole body to be seen as a circus artist in the circus world.
How did you get through those really hard struggles while you were studying?
Well, one thing that usually helped me is just to have deadlines. Then you have a concert, then you just play, then you just do this. And trying not to think too much. When I was between 9 and 16, I did a lot of gymnastics. And there I also had to kind of forget about thinking too much because it's such a military base.
Can you describe the process and what happened after you graduated?
I graduated five years ago. When I graduated in the autumn I had work with the National Opera. I had this kind of mini-opera for small kids where I was allowed to sing and play and act a bit. I was also teaching a bit of flute.
But in August 2018 I got a hand injury and that made me unable to play any flute at all. It was also hard for me to teach because I couldn't hold a pencil in my hand, like I couldn't grab things. So that was quite a turn. I had to say no to all the gigs and pay for all the specialists just to figure out what's wrong with me. It was a bit of a tough start.
In January 2019, one of my friends contacted me and asked me, "hey, my boyfriend is a beatboxer, would you like to make a little show for the next open stage?" And I was like, "sure". So we did a short little show of 10 minutes where I pantomimed and he did all the sounds. It became very funny, it was super fun to make it and apparently the audience loved it as well. From that day I started getting gigs as a clown. There were two female clowns in the audience who happened to see that. So all the gigs that they couldn't do I got basically. Since that day everything started to get better.
I've been doing this kind of system of having two days per week of teaching flute or circus to make sure that I get a base income. One of the big turns also for me was when one classical music group asked me, "could you take a concert for kids?" And I asked them, "do you have free hands?" And they were like, "yeah, yeah, we'll trust you." I created a solo show where basically I didn't play anything. The whole show there was a pianist playing and me doing circus. A story without words.
Can you explain how the process of finding these jobs has been? For example the process of networking and searching or do they just come to you?
They quite often come to me by accident. Here I say thanks to my mother. She's always said to me, "you need to speak about your things that you're doing." And I know it's in Finland, it's hard to speak about it without bragging or pushing. To mention what you do for a living and also being like, "hey, if you need anyone in your company, I can come." Like sowing seeds.
Also daring to reach out to people to say, hey, your work is cool. I try to go to someone's show or to someone's working place and then invite them to come and see my things.
If I'm really out of ideas of where to search, I find a show I like and check on the poster who sponsored it. Then go and ask them or check their application deadline. I am also active on the Student Theatre board and see and learn a lot about grants through there.
Is it harder to get grants for living expenses?
Yes, I see the grant applications as a wheel that you need to start rolling. In the beginning you get very small sums of money. My first grant that I applied for, I got only 500 euros. I had to search for a place for free and go around begging. That's also a thing, they (the grant givers) want to see, they want to test you. Then the more and more they trust you, they give you more and more money. They spy on you and I record grants on my CV. And nowadays I am more and more daring to write that this will be my salary. I think it's always good to write down the salary.
Of course you need to be active on social media. I have Facebook and Instagram. LinkedIn didn't feel like a place for artists. There was no freelancer option. I think also it helped a lot for me to have my website and to keep it updated.
How is your work-life balance? How much would you work per day? Do you give yourself holidays? How do you balance things and keep yourself sane?
That's of course the hardest thing. When a lot of work comes you are greedy, you never know when the next sources will come, so you take everything to just make sure that you will have money for the next year or something.
But my routine nowadays, usually, is so that I start my day with emails. I take a cup of tea, sit down, and check my emails for one hour. Eat some breakfast, and after that I know that I need to move my body. So then I go to the gym or circus training. And then after that I eat lunch. So usually by lunch then it depends on the day. I might teach somewhere or have a meeting somewhere. It's a really nice routine.
When pricing yourself, do you have any kind of formula or just kind of guess it?
I like to think about it for a while. I've been trying to ask around what other people ask for. It's quite much just guessing. And of course the more name you have, the higher price you can ask. It needs to be worth it. But then again, if there's a project that I'm really inspired by, I'm happy to do half free.
Also I've been realising that my dream is to create my own things. So I'm trying more to not take things that are uninspiring, unless they're very good money, and just to focus on my things and be available for new projects.
What are your goals? What's going to happen in your future? Do you have any kind of direction or imagination? Five-year plan?
When I realised that I wasn't happy with my everyday life, I started looking further into my future. It's easy to be like, well, it's okay now, instead of asking, "am I really happy?"
My dream would be to perform in different projects. I hope I will not need to be physical the whole life. It's quite tiring for the body. I would like to be a director more and more. I love to work with people. I also like to be in the position where I can speak with people and ask them what they think. I want to be a link. A person who helps and inspires people.
Of course, the road is not super clear. And my road has never been that clear of how to reach the goals. So, and that's why trying to follow the intuition is important and picking up on small things and trying to work on that.
Are there any other countries in the world that you would like to live in and do your creative things? Or countries that are good for creative things?
Germany or one of the Nordic countries. Norway has always been a love for me. Or France. I would need to learn French. They have the art that I love. So much physicality and absurdity.
I would have to stay in a big city and I don't want to be a nomad or a traveller. I want to have a home and roots. The less I can fly and do nice jobs locally, the better. I'm not that eager to search for jobs abroad.
What do you want to learn and what skills do you want to improve on? Are there any other areas that you want to dabble in?
I think everyone can get better in speaking culture and communication. Also we need to always update our communication. For example the Me Too or the Black Lives Matters movement made it so that we can't speak in a certain way. It's always something new that we need to be aware of and relearn.
–Elle
Life of an art student
In this blog, Uniarts Helsinki students share their experiences as art students from different academies and perspectives, in their own words. If you want to learn even more regarding studying and student life in Uniarts and Helsinki, you can ask directly from our student ambassadors.
Latest posts
---
---
Follow blog