Meet the Academy of Fine Art's Student Ambassadors
Students Anastasia, Elle and Rong-Ci introduce themselves. Want to ask about fine arts studies? You can reach us at: kuva.student.ambassadors@uniarts.fi.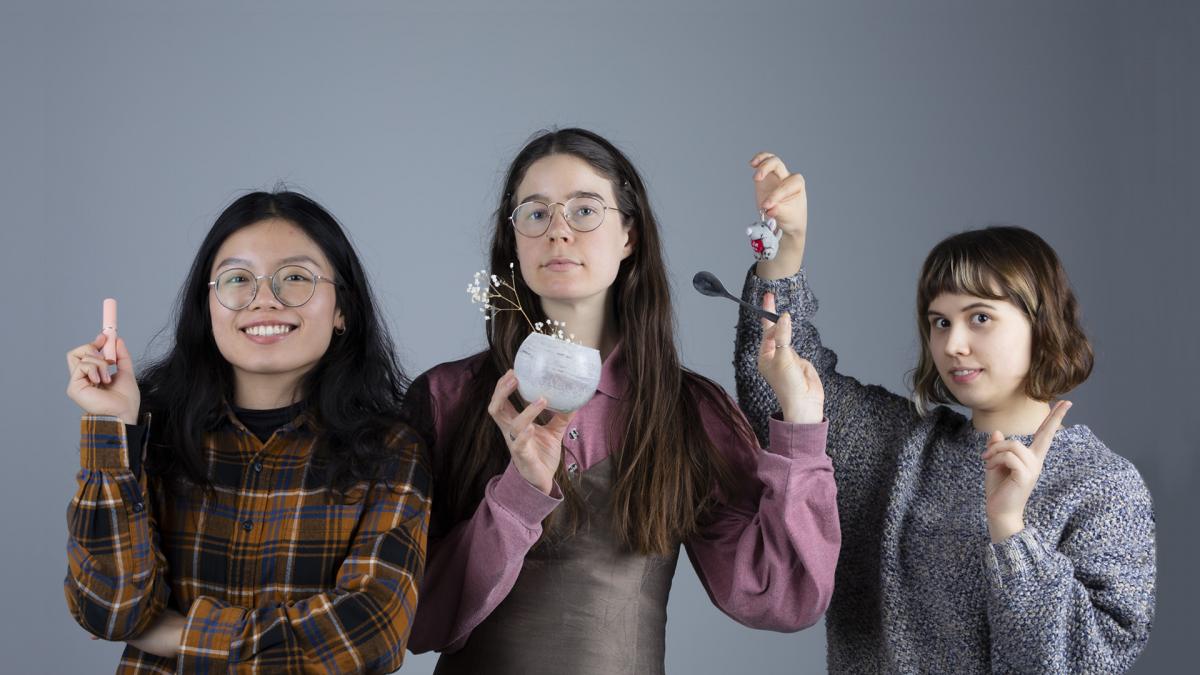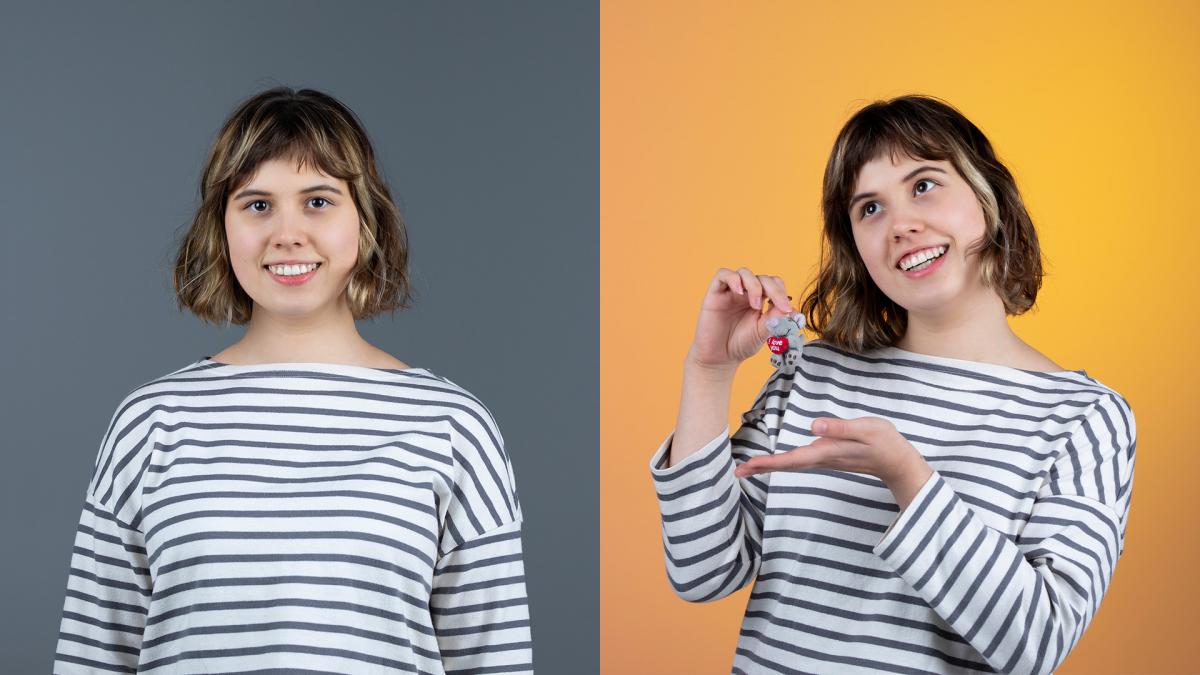 Anastasia, Bachelor's in Time and Space Arts
Russian, English, Finnish
Hei! I'm Anastasia, I came from Russia, Saint Petersburg, and I have been living in Finland for 5 years. I study in the Academy of Fine Arts, the subject area of Time and Space. In my artistic practice, I work a lot with installations, photography and neural networks. I am also interested in event production and curating in the arts.
Studies in KuvA give a lot of freedom. A lot of emphasis is put on developing our own artistic practice and thinking as an artist. There are a lot of possibilities to choose from when it comes to courses and projects, and we receive a lot of support from our teachers and community.
Helsinki has a lot of hidden gems in it, from beautiful parks to cultural centres on its outskirts. So it's always good to go further away from the city centre and explore different unknown possibilities of Helsinki.
For my photo, I have chosen a keychain with a little mouse that holds an "I love you" heart cushion. I think I have a lot in common with this mouse, as I am also quite a loving and easy-going person. I think we also look a bit alike.
Be open to new people and experiences and learn more about yourself while you are studying!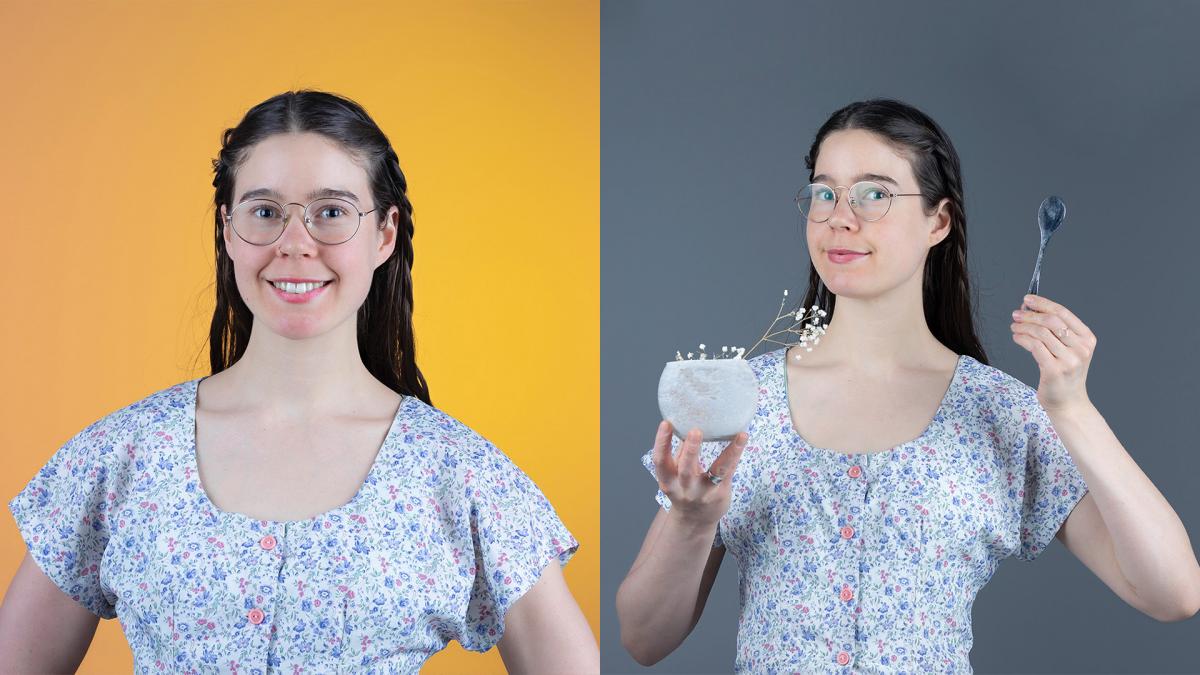 Elle, Bachelor's in Printmaking
Finnish, English
My name is Elle and I am from Australia. I am an art-science based artist with current research into the cryosphere, plants, geology and botany. This year I will complete my Bachelor of Fine Arts in the Printmaking subject area and will then move on to my Master's.
It is incredibly amazing to study at Kuva. My world is bursting with new information and possibilities.
My Helsinki life-hack has to be the best program for learning Finnish vocabulary, Anki. It utilises spaced repetition learning.
In my photo, I am holding two of my art objects. One is a teaspoon that I placed on a train track. It represents curiosity into the invisible memories and stories of objects. The second is a mineral-encrusted jar that was in a replica of deep-time geological processes. The jar would say, "drink plenty of fresh water every day, the planetary forces are within you".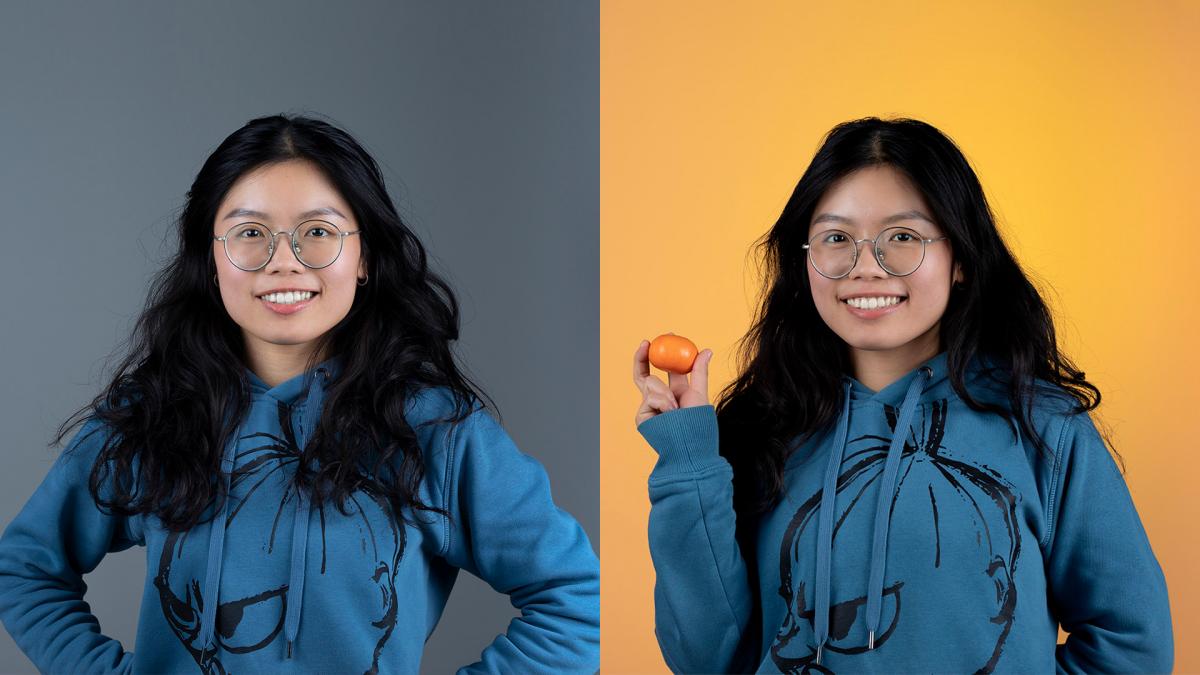 Rong-Ci, Bachelor's in Time and Space Arts
Mandarin, Taiwanese Hokkien, English, Finnish
I am Rong-Ci from Taichung, Taiwan. I am a first-year bachelor's degree student in KuvA, Time and Space subject area.
It has been really calming and also inspiring to study in Kuva. I really like that in the school everyone has quite a lot of freedom to take the courses that one wants to. I had to think ahead about what I wanted to do for the next semester and plan my studies. That helps me a lot to set a goal for myself.
Helsinki is a relatively slow-tempo city to me. I tend to take everything really slow, however, what I realised is that it's good to plan things ahead here, dentist appointments for example.
My object is a mandarin, as it shares the same name as one of my mother tongues, and it was the right season for it. Mandarins helped me a lot in getting through the dark Finnish winter.
It could be sweet and sour at times, but always remember that it's good to be nice. One will find it fruitful in the end, perhaps.
Photography and editing by the Student Ambassadors of the Academy of Fine Arts: Anastasia Lapteva (@aasyalapteva), Ellenor Rose Nish (@studiomokii) and Rong-Ci Zhang (@rrong.ci.zhang).
Life of an art student
In this blog, Uniarts Helsinki students share their experiences as art students from different academies and perspectives, in their own words. If you want to learn even more regarding studying and student life in Uniarts and Helsinki, you can ask directly from our student ambassadors.
Latest posts
---
---
Follow blog