Looking at complex geographies through posthuman visualities – The Polar Silk Road
Elena Mazzi asks how posthuman visualities can bring to light the deep environmental, social, political and economic changes that are currently affecting the Arctic regions. Mazzi is one of the artists-in-residence of Research Pavilion #5.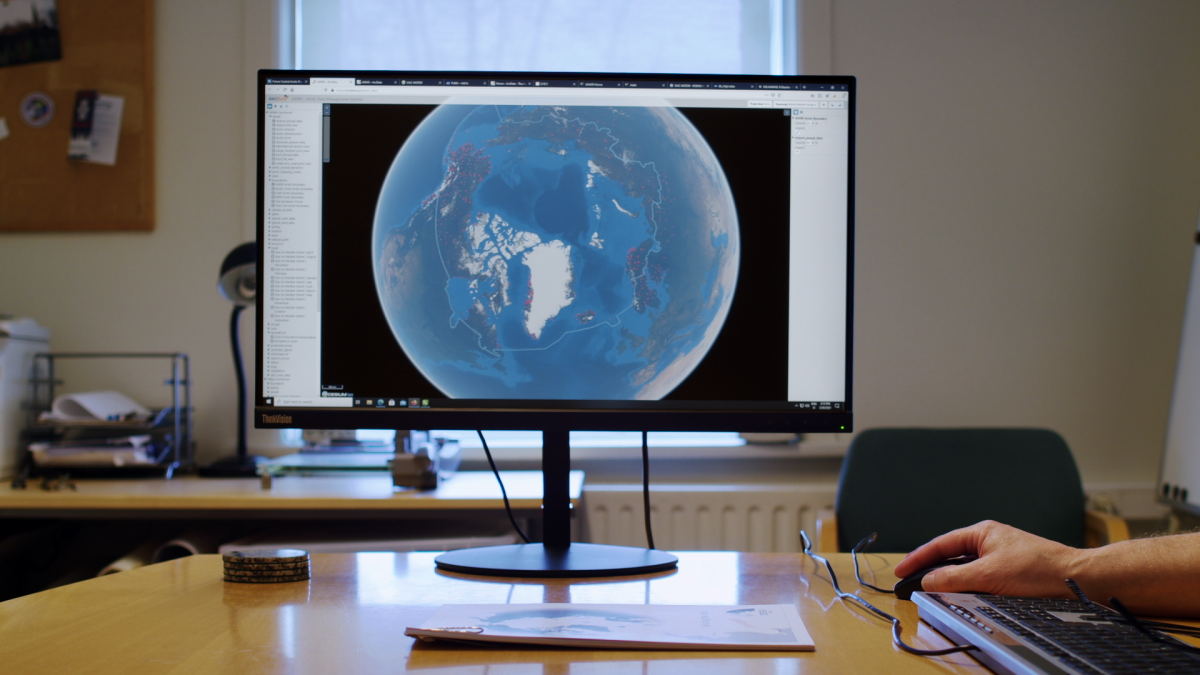 Project description
This project brings the territorial and cultural landscapes known as the Polar Silk Road to the forefront of contemporary art practices. As the Arctic seas become increasingly navigable due to global warming and the consequent melting of the ice sheet, the access to new resources is drastically enhanced, as promoters now get to lay their hands on no less than 20% of the world's oil, gas, uranium, gold, platinum and zinc reserves. The aim of this research is to develop research-based speculative encounters between geopolitics and visual culture in relation to the Polar Silk Road commercial project, by considering how exploring through art the current political conflict might slow down or drastically transform this plan. Arctic Regions are complex to define from a geological perspective and subjected to rapid changes. Here, intricate relationships between natural resources and humans are interwoven. That is why art practices are fundamental in analysing the entanglement between economy, geopolitics, ecology and mobility, using an inclusive approach to different perspectives that go beyond dominant cultural groups and challenge colonial legacies.

The first goal of this research is to identify, sort out, and accurately describe visual practices in ecology intended as forms of knowledge. In parallel, through my own work, I aim to investigate new tools to visualise the complex relationship between geopolitics and geography, taking into consideration that Arctic regions have devoted particular attention and care to environmental issues and sustainability in the last decades. With this project, I wish to bridge the gap between the academic world and artistic communities, by opening transdisciplinary spaces for encounters.

When I started collecting materials for this proposal, soon after my residency at the Skaftfell Centre for the Arts in Iceland in 2018, I was strongly convinced that the Polar Silk Road would have changed the entire geopolitical world asset as we know it. However, our global trajectories were affected even more drastically by the outbreak of the Covid-19 pandemic and by the war between Russia and Ukraine, and this is why I look at the Polar Silk Road project as a way to open up new connections and modes of practices.

Artist researcher profile
Elena Mazzi (Reggio Emilia, 1984) studied at the University of Siena and the IUAV in Venice, after which she trained at the Royal Institute of Art (Konsthögskolan) in Stockholm.

Starting from the examination of specific territories, in her works, she reinterprets the cultural and natural heritage of places, interweaving stories, facts and fantasies handed down by local communities, in order to suggest possible resolutions to the man-nature-culture conflict. Her somewhat anthropological working method favours a holistic approach aimed at repairing the rifts that occur in society. She begins the work with observation and proceeds by combining various areas of knowledge.
Her works have been exhibited in solo and group exhibitions, including: Lulea Biennale 2022, der TANK in Basel, MADRE in Naples, ar/ge kunst in Bozen, Sodertalje Konsthall in Stockholm, Whitechapel Gallery in London, BOZAR in Brussels, Museo del Novecento in Florence, MAGA in Gallarate, GAMeC in Bergamo, MAMbo in Bologna, AlbumArte in Rome, Sonje Art Center in Seoul, Palazzo Fortuny in Venice, the Golinelli Foundation in Bologna, 16th Quadriennale in Rome, GAM in Turin, the 14th Istanbul Biennial, the 17th BJCEM Mediterranean Biennial, COP17 in Durban, the Italian Cultural Institute in New York, Brussels, Stockholm, Johannesburg and Cape Town, and the Bevilacqua La Masa Foundation in Venice.
She attended different residency programs and workshops such as ZK/U (DE), Skaftfell Center for the Arts (IS), HIAP (FIN), GuilmiArtProject (I), Via Farini (I), Foundation Botin (E), Bevilacqua La Masa (I), Future Farmers A.I.R. (USA), Fondazione Spinola Banna (I), Botkyrka Konsthall AIR (S). She is the winner, among others, of Cantica21 promoted by the Foreign Ministry and the Ministry of Culture, of the 7th edition of the Italian Council sponsored by the Ministry of Culture, the XVII Ermanno Casoli Prize, the STEP Beyond Prize, the OnBoard Prize, the VISIO Young Talent Acquisition Prize, the Eneganart Prize, the Illy scholarship for Unidee, the Pistoletto Foundation, nctm and art prize, the Sandretto Re Rebaudengo Foundation prize, the Lerici Foundation prize, and Movin'up.
Elena Mazzi is pursuing a PhD in Arts at Villa Arson in Nice 2022–25.
Elena Mazzi's Research Pavilion residence will take place in Saari Residence from 16 May to 28 May 2023.