Meet the Sibelius Academy's Student Ambassadors
Students Anton, Cliodhna, Ita, Lucía, Mark and Miina introduce themselves. Want to ask about music studies? You can reach us at: siba.student.ambassadors@uniarts.fi.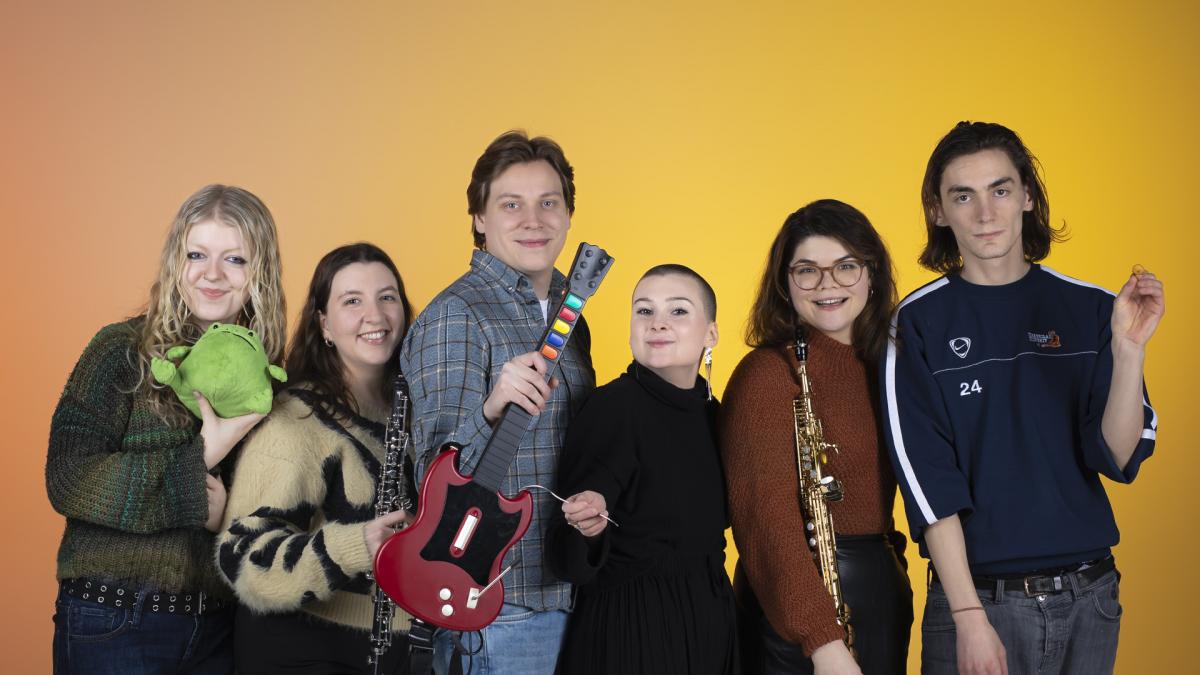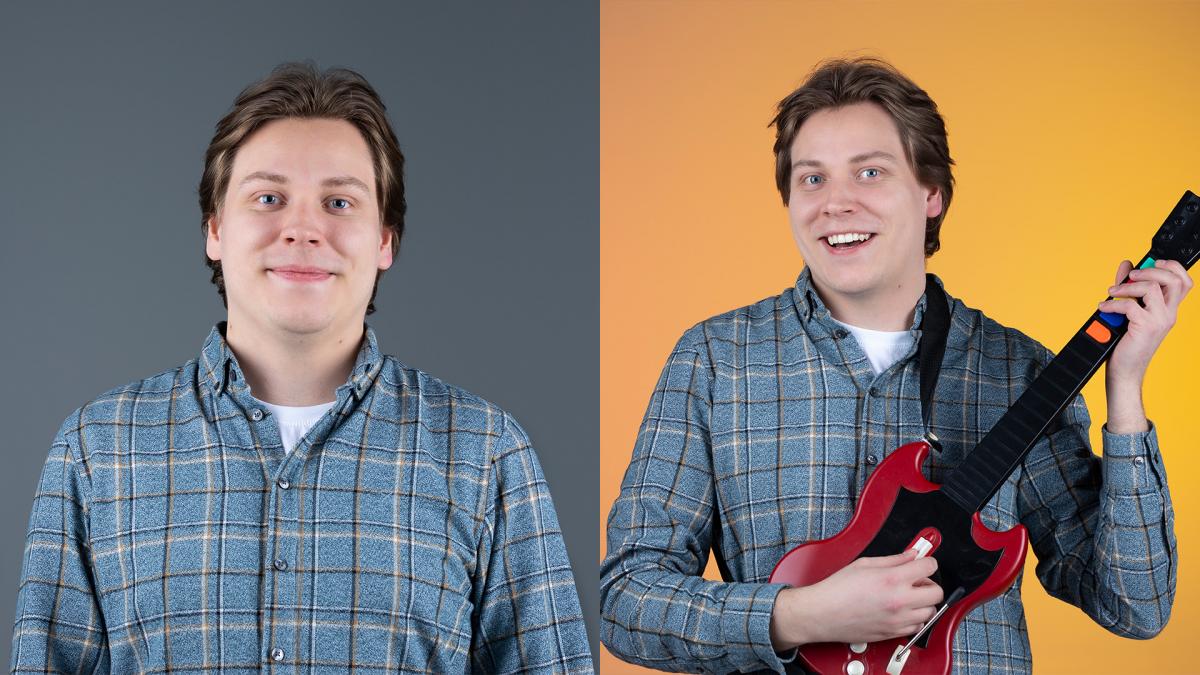 Anton, Bachelor's in Music Education
Finnish, German, English
My name is Anton and I'm a third-year music education student at SibA. I'm from Finland and have been living most of my life around Helsinki, but since I went to a German school, I also speak German fluently!
Studying at SibA has been versatile and truly inspiring! Being surrounded by like-minded people, inspiring teachers, and attending interesting lectures has taught me a lot of new things and encouraged me to try things outside of my comfort zone. On top of that, studying here has given me many new ideas to try out, especially from a music teacher's perspective!
As for a life-hack for surviving in Helsinki: spring and fall time here can be sometimes quite windy and rainy, which is why I highly recommend investing in a good rain jacket and maybe a pair of rubber boots! I realised this far too late, but after the investment, walking in "bad" weather has actually become one of my favourite things to do!
As my object for the photo, I chose a blast from the past: a game controller for the game Guitar Hero 2 for PlayStation 2! What stuck with me from this game were the many different artists and genres of songs. Even to this day, instead of focusing only on one specific topic, I like to learn snippets from as many things as possible and mix them together! But attending many interesting courses and being part of several projects can sometimes be too much at once, which is why it's ok from time to time to relax and lower your difficulty level a bit and just enjoy the entirety! And when you are ready, you can always change back to expert mode and keep on rocking!

Cliodhna, Bachelor's in Flute Performance
English
Hi, my name is Cliodhna (or just Clio) and I study classical flute at SibA! I was born and raised in Edinburgh, Scotland but my parents lived their whole lives in England, so I sadly don't have much of an accent. I'm in my first year of bachelor's so I have a lot of time to discover more about Finland and enjoy the culture.
SibA is the most holistic and caring conservatoire I've ever heard of and the environment is incredibly friendly. The student population is super diverse and I was welcomed very quickly. It's not always easy studying abroad but I feel very at home when I'm in a practice room, a class or even the M building or N building cafe.
My life hack would be to get a library card – Oodi is the most amazing library and I've read so many books for free over the course of this year!
I couldn't choose just one object so I brought my flute (obviously) and a cute frog teddy. My flute is a big part of who I am and I use it to express myself, also to collaborate with other musicians. And to be honest I'm not sure what the frog represents – I just thought it was kinda funny! I think the frog would say to make the most of every opportunity that comes your way – it's a privilege to experience studying in a different country!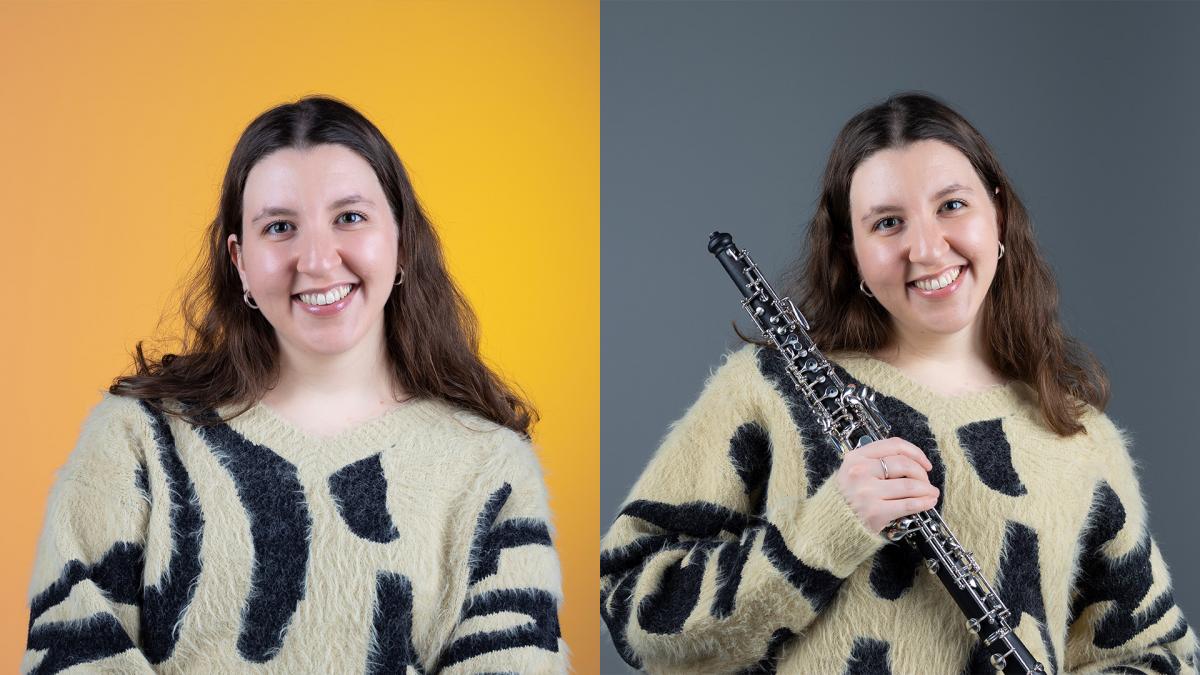 Lucía, Master's in Oboe Performance
Spanish, French, English
Moi! My name is Lucía and I am an oboe student at SibA from Spain.
Studying at the Academy is so much fun! Getting to know other students from all around the world and working with incredible teachers everyday makes living in Helsinki very easy!
Don't be scared about the winter! When it gets dark and cold, think that it is just temporary and spring will come sooner than you expect 🌸 try to keep yourself active and entertained during the winter months ⛷️
I chose my oboe as the object to represent me because I have met many wonderful friends and played a lot of nice music thanks to it and it is of course, the reason why I moved to Finland to study! New places often bring new good things and opportunities into your life. Ups and downs are very normal throughout a musician's daily life. Sometimes when you get to a new place, these can be especially overwhelming. When it happens to me, I try to reach out for support from my oboe teachers and colleagues. It makes a huge difference!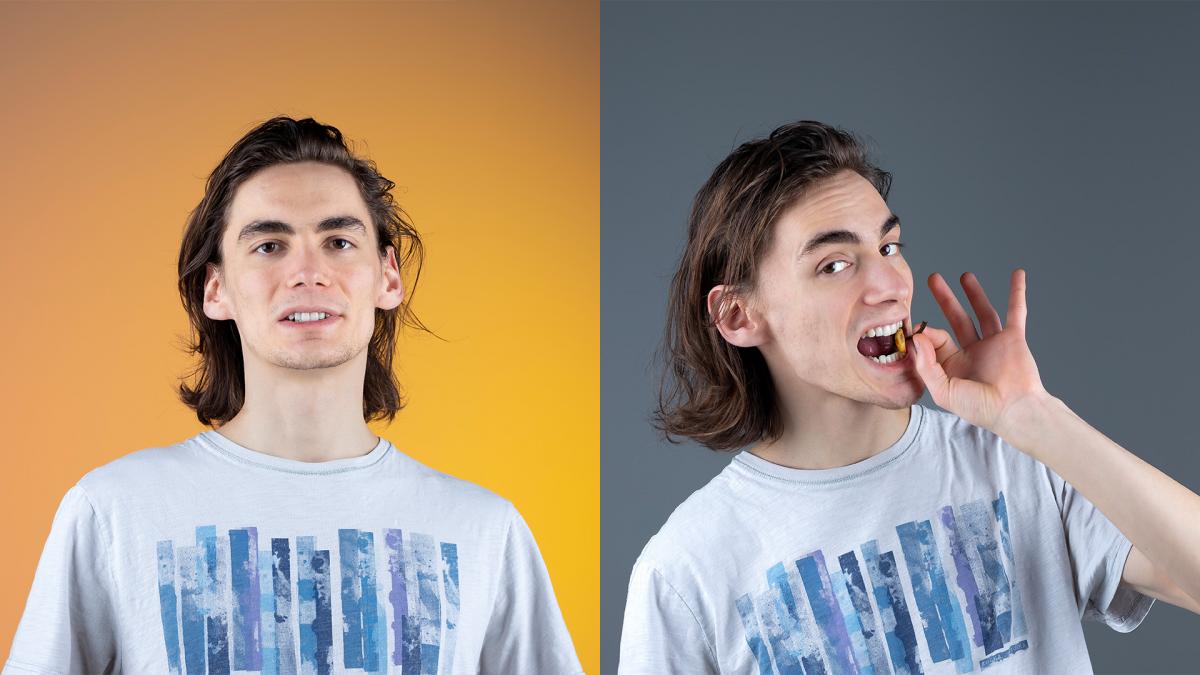 Mark, Master's in Guitar Performance
Slovene, English
Hiya, my name is Mark and I'm a musician originally from Slovenia! Currently studying in the classical guitar performance master's programme but generally like to explore experimental performance, improvisation and composition in my studies.
Studying at SibA is like hacking your way through a thick jungle – following your own path is hard and rewarding, plus, you might just uncover El Dorado.
My Helsinki life-hacks would be: Wait for the UFF (thrift shop) sale days, go to Sompasauna, get a bike week 1 – you will thank yourself, even in the snow!
In the photo I'm holding in my hand a small mushroom I found on the way to school – I think we're all like mushrooms really, the fruit is merely what others see, however there is a full web of complexity beneath the surface! Like the mushroom, be opportunistic! Say yes and have the courage to get yourself out there even in the harshest climate! Also, be smart. One would never pick mushrooms without a good bit of research behind them, a good lesson for orienting studies too!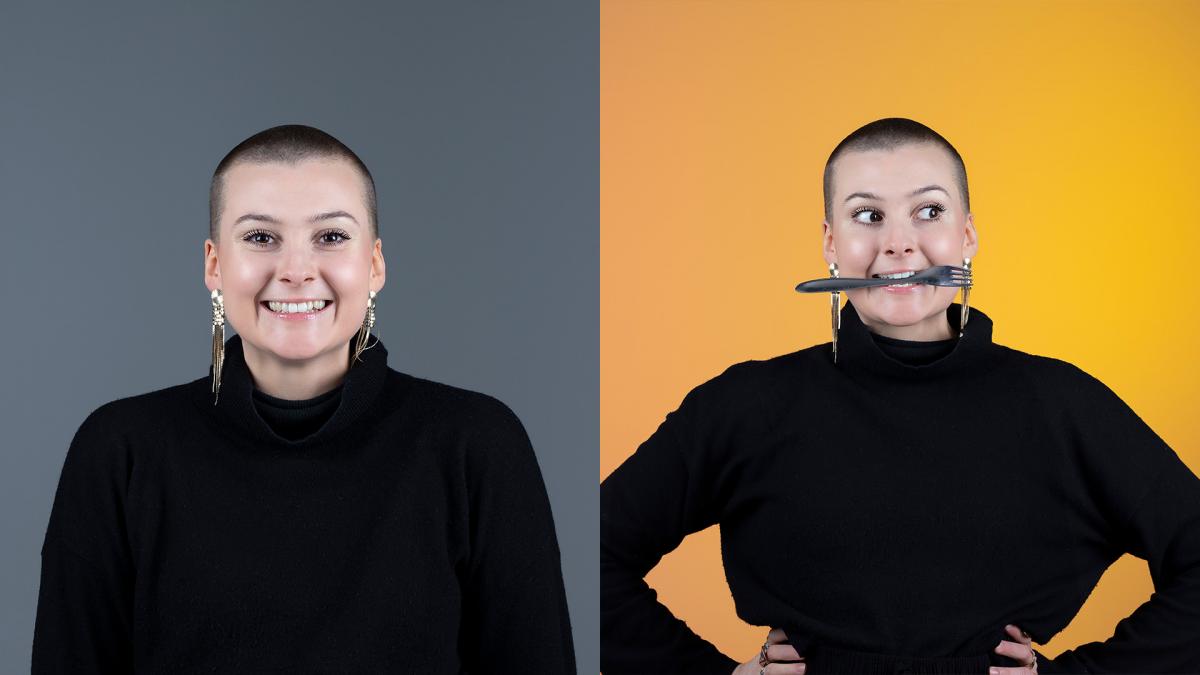 Miina, Bachelor's in Music Education
Finnish, English
Heyyy, this is Miina from Music Education at Sibelius Academy! Although I was born in Helsinki I'm from a tiny village surrounded by forest in Central Finland (literally, the backyard is a forest).
I really enjoy studying at SibA even if sometimes there is a lot going on at the same time. The people you get to meet, make music and study with are amazing! The best thing is that there's so many different kinds of personas that you'll find your people <3
My Helsinki life-hack: always check the weather forecast's "how it feels" temperature! The wind makes everything unexpectedly cold, especially during winter. Oh and while we're on this: definitely invest in a wind protecting jacket instead of a woollen one. Trust me, makes all the difference!
So yeah, my object in the photo is a fork. Needless to say, making and eating food is the best. When there's time I love to cook either just by myself or with other people. Shoutout to unari (UniCafe, a chain of student cafeterias in Helsinki) for times when there's no time to cook at home! Also, finding different ways of cooking tofu is always fun – if you have one, slide in my DMs with some tasty recipes. A piece of advice from me and my fork to my fellow students: try to take only as much as you can fit on one forkful, or even a little less. As much as you'd want to be everywhere and do everything, remember to time to take care yourself <3
Photography and editing by the Student Ambassadors of the Academy of Fine Arts: Anastasia Lapteva (@aasyalapteva), Ellenor Rose Nish (@studiomokii) and Rong-Ci Zhang (@rrong.ci.zhang)
Life of an art student
In this blog, Uniarts Helsinki students share their experiences as art students from different academies and perspectives, in their own words. If you want to learn even more regarding studying and student life in Uniarts and Helsinki, you can ask directly from our student ambassadors.
Latest posts
---
---
Follow blog