Sibis Jazz Ensembles With Danny Grissett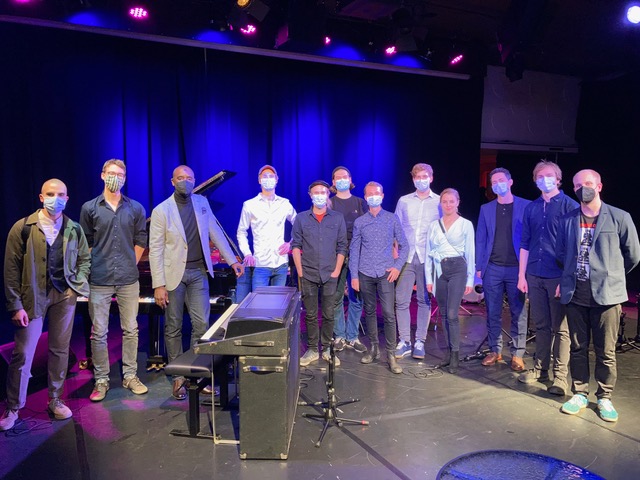 Every semester Sibis Jazz invites one internationally acclaimed artist to teach and lead two ensembles consisting of the jazz students. The department has been organizing these visits since 2014 having amazing artists like Terell Stafford, Peter Bernstein, Chico Pinheiro, Will Vinson, Tim Hagans, Bob Hurst, Kendrick Scott, Aaron Goldberg to share their artistry with our talented students. This fall we were honored to add another great musician and a wonderful person to the list: Danny Grissett.

Miles David said: "I can tell weather a person can play just by checking what the cat is wearing". If that's true he would have heard the beauty, the harmonic richness and sophistication of Danny Grissett. Mr Grissett is a brilliant soloist but he is a true team player also. He's all ears and knows how to make his team mate shine. Thank you Danny for your spirit, inspiration and music.

The Danny Grisset Ensembles at Koko Jazz Club the 9th of September: Max Medvedev, Vid Sketa, Danny Grissett, Johannes Granroth, Teemu Mustonen, Moses Kuloniemi, Juuso Rinta Markus Eerman, Marianne Leibur, Rafa Postel, Olli Virtanen and Oliver Karttunen.
Dig Sibis Jazz
Things that are happening at the Department of Jazz at the Sibelius Academy.
"Jazz is not a what, it is a how. If it were a what, it would be static, never growing. The how is that the music comes from the moment, it is spontaneous, it exists at the time it is created. And anyone who makes music according to this method conveys to me an element that makes his music jazz." -Bill Evans
Latest posts
---
---
Follow blog