Slippery Theories of Togetherness: A Sonic Proposition
Hannah Rowan's and Anastasia (A) Khodyreva's research and material practices look at the phase change in matter, particularly ice and other water phases, to think about how slipperiness relates to durational, relational, and response-able practice of togetherness. The duo are artists-in-residence of Research Pavilion #5.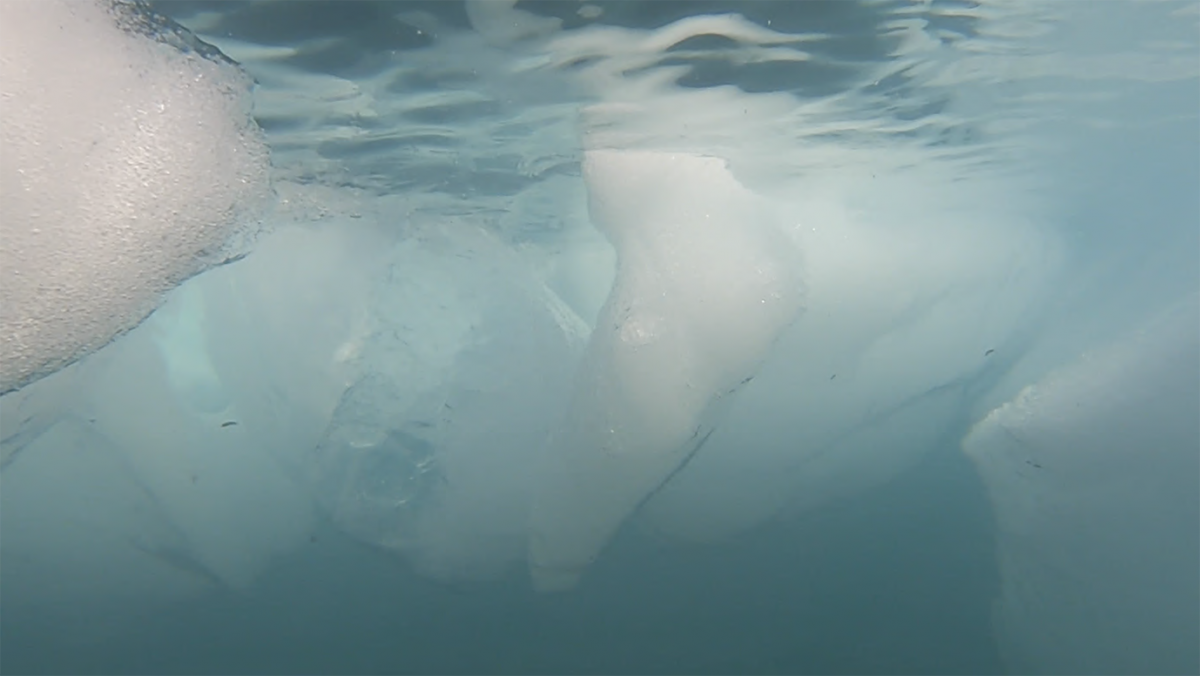 Description of the cross-disciplinary research project
'Slippery Theories of Togetherness: A Sonic Proposition' is a cross–disciplinary research project initiated by Anastasia (A) Khodyreva (Turku, Finland) and Hannah Rowan (London, UK). Building on their existing material practices, writing, sound libraries of melting ice and myriad of other aqueous embodiments, the duo will gather new field recordings in and around the wetlands of Mietoistenlahti bay that will manifest their research into a sonic accompaniment. Looking to intertidal happenings and the shoreline as a porous boundary, a slippery convergence of land and river, a liminal zone and marginal ecosystem, their research will dwell in the murky and the slippery to propose a possibility of malleable togetherness. The world is a process and meaningful togetherness cannot be immobile. It does not exist before it is practiced. Like liquid waters chasing each other and slipping away to form their collective tracery, meaningful togetherness is ever-re-negotiated. In this aqueous spirit, the duo figures togetherness as slippery: to acknowledge possible uneasy of re-negotiation and to approach it as an invigoration of ethical with-ness (Bellacasa, Matters of Care, 2017) – in embodied, located (Neimanis, Bodies of Water: Posthuman Feminist Phenomenology, 2017) and situated ways (Haraway, Situated Knowledge, 1989). What meaningful nuances of multispecies urgently needed togetherness might surface if one listens and walks towards them site-specifically? Which expectations might one have about a practice of togetherness? Which ones might thicken? Which might crumble?
Khodyreva and Rowan have an ongoing collaborative research dialogue that began in 2020, previously existing as online workshops, visual lectures and sonic outputs. Their practices will converge together physically for the first time at Saari Residence Research Pavilion.
Artist-researcher profiles
Hannah Rowan is a multidisciplinary artist based in London, UK. Her work explores the slippery complexities of water that draws together a liquid relationship between the human body and geological and ecological systems. She works across sculpture, installation,
performance, video and sound to explore the uncertain form of materials. Rowan studied MA Sculpture at the Royal College of Art and BA Fine Art at Central Saint Martins, both London. Solo exhibitions include Tides in the Body, 2023, C+N Gallery, Milan, IT; Chrysalis, 2021, Galerie Sebastien Bertrand, Geneva, CH; Triple Point, 2020, Belo Campo, Lisbon, Portugal; Prima Materia, 2019, Assembly Point, London, UK; Bodies of Water: Age of Fluidity, 2018, White Crypt, London, UK. She has attended residencies at Est Nord Est, The Arctic Circle, Banff Center, Vermont Studio Center, Scottish Sculpture Workshop, Wassaic Project as well as artist-led research residencies in the Atacama Desert and Greenland.

Anastasia (A) Khodyreva (they/them) is an interdisciplinary researcher, doctoral candidate (Gender Studies, UTU), writer, organiser. They swing between academic and artistic research, work through methods of haptic encounters, sound walks, note-taking and multisensorial writing. Their dissertation thought-felt and wrote-sensed liveable interstices for marginalised bodies and developed a decolonial curiosity (speculative monograph solicited by Errant Bodies Press, Berlin). With curator Elina Suoyrjö, they co-facilitate Aquatic Encounters: Arts and Hydrofeminisms, an artistic research and communal reading project that dream of just aqueous companionships (KONE Foundation, 2020-2022). Their contribution allies with ice, queries the Western gender binary and crafts ethics of multispecies relatings. They co-edited Sonorous Bodies, a special issue of The Unlikely Journal for Creative Arts, wrote for e.g. niin & näin, The CSPA Quarterly, Errant Bodies Press & Queer Death Studies Handbook (forthcoming) and dwelled as an artist-writer at Listening, Attuning (the FEELed Lab), Contemporary Art Archepelago and Tuo Tuo Arts (April, December 2022).
The Research Pavilion residence will take place in Saari Residence from 16 May to 28 May 2023.