MA students of Fine Arts and Choreography "translated" each other's works
Joint studies: MA in Choreography and Fine Arts got together around New Materialisms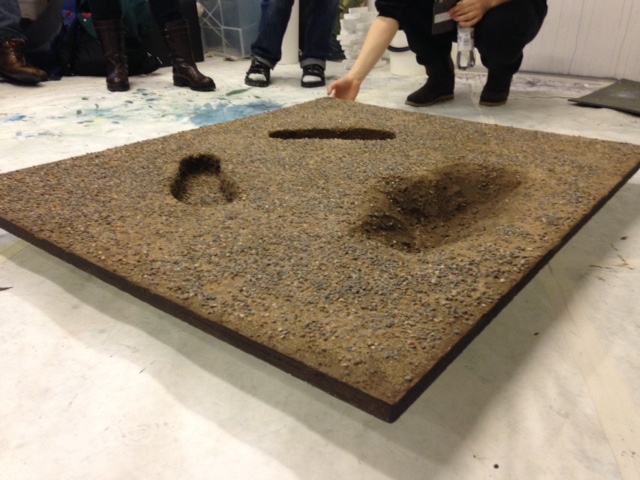 MA-students of Choreography and Fine Arts collaborated on a course on New Materialism in January 2016. The course "New Paradigm in Onthologies of Arts (on Corporeality and Materiality)", coordinated by professors Kirsi Monni and Tarja Pitkänen-Walter, consisted of lectures and artistic workshops. Students shared their own artistic work and made translations from medium to another, based on each other's previous works.

The participants from KuvA were Lasse Juuti, Mikko Laaksonen, Anu Raatikainen and Ona Taskinen. And from MA in Choprepgraphy Elina von Bagh, Sara Gurewitch, Sebastian López-Lehto and Iiro Näkki.
Lectures of the course:
Inka Maija Iitiä: In between Textual and Sensational. Structurations in Post-Modern Painting.
Tarja Pitkänen-Walter: Elements of Enlivening – on Appearences of Aesthetic Aspects in Painting at Different Times
Mette Ingvartsen: On the work 7 pleasures
Kirsi Monni: Corporeality, Perception and Materiality in Contemporary Choreography
Reader of the course:
Cultural Studies Review journal's volume on "New Materialisms", especially Milla Tiainen, Katve-Kaisa Kontturi and Ilona Hongisto's article "Framing, Following, Middling – Towards Methodologies of Relational Materialities".
Koreoblogi
Koreografian koulutusohjelman blogi on keskustelun ja jakamisen paikka. Täällä koulutusohjelman opiskelijat, henkilökunta ja vierailijat kirjoittavat koreografiasta, opiskelusta, meneillään olevista projekteista, (tanssi)taiteesta ja sen ympäriltä.
Uusimmat julkaisut
---
---
Seuraa blogia