Interview with Hannaleena Heiska, a Visual Artist and Academy of Fine Arts Alumni
In addition to paintings, Hannaleena Heiska delves into installation, film, and drawing. The alumni interview series continues.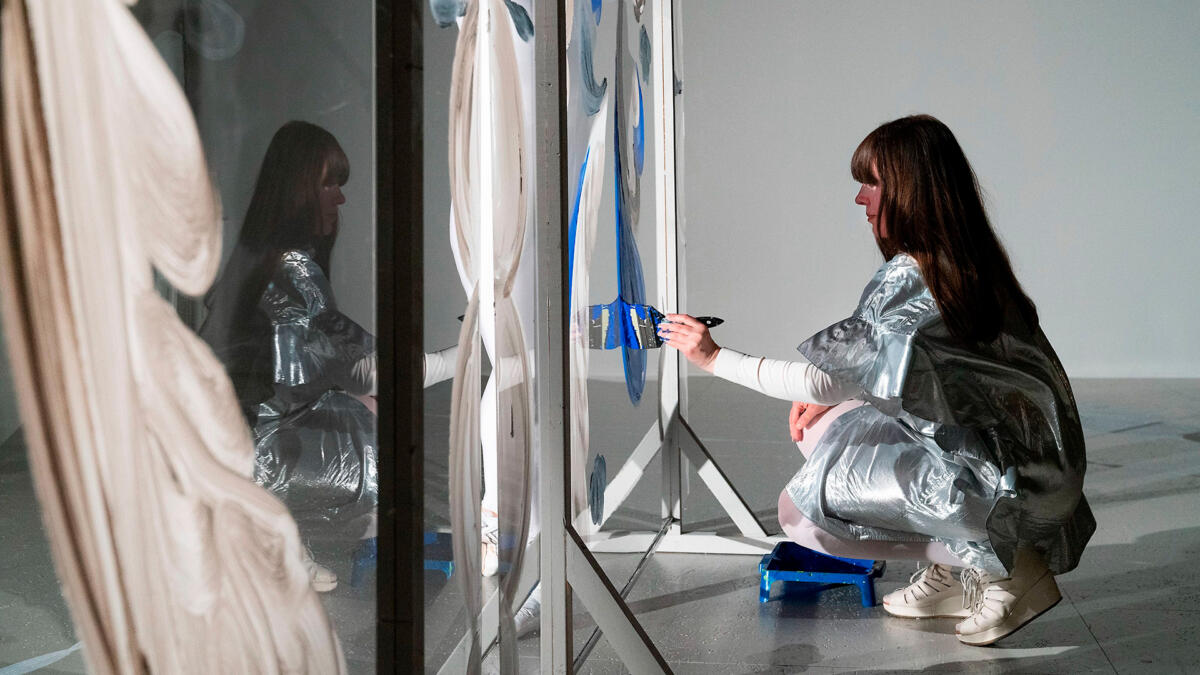 Hannaleena Heiska is an exceptionally versatile, intriguing, and resilient artist. In addition to her remarkable paintings, she delves into installation, film, and drawing. Moreover, she currently engages in an interdisciplinary collaboration with dancer-choreographer Minna Tervamäki. I feel incredibly fortunate to have had the opportunity to interview her as part of this series, which brings valuable advice from alumni to current students.
A collection of the basic tips of wisdom
Have curiosity to venture into unfamiliar fields and explore mediums you may not be familiar with.
As a student, take an interest in your peers and their work, but refrain from comparing yourself to others. Each artist's journey is unique and has its own pace.
Be prepared to put in hard work and confront challenges. Perseverance and resilience are crucial attributes.
Strive to make a positive impact on the art world and society as a whole. Reflect on how we can collectively improve the position of artists in society and take action.
Maintain connections with friends and mentors from Kuva.
Stay dedicated to your artistic practice and continuously push yourself to evolve and refine your work.
Always have a plan B in mind, as adaptability will serve you well.
After graduating, there are various avenues to continue your learning and growth as an artist. Explore opportunities to expand your skills and knowledge.
Prioritize your well-being and overall health. Understand your needs and take care of yourself.
Stay informed by following developments in the art world and signing up for newsletters.
What are you currently working on?
At the moment, I have a solo exhibition at the EMMA museum together with dancer and choreographer Minna Tervamäki. Our exhibition, titled Metamorphosis, opened at the beginning of April, and there is a film piece and an installation on display. In addition to these, we perform in the exhibition space a total of ten times. We still have two performances left at the end of August. Our film has traveled to festivals around the world and next, it goes to Warsaw, Poland.
In addition to the interdisciplinary collaboration with Minna Tervamäki, I have an exhibition in Sweden at the Museum of Drawing in Laholm together with the Swedish artist Maria Bajt, who lives in Berlin.
In the fall, a group exhibition called Dimensions of a Line will open at the Kuntsi Museum of Modern Art in Vaasa. It has been curated by Maaria Salo. I am also about to start working in my studio again after the summer vacation. Next year I'll have a solo exhibition at Helsinki Contemporary.
What has been your study journey and your career journey? Who are you?
I got into the Academy of Fine Arts on the second try. Before that, I studied for two years at Liminka art school and one year at Kankaanpää art school. I believe that studying in other art schools before joining the Academy of Fine Arts was beneficial. I had already studied the basics and was able to fully focus on my own work at Kuva.
Although I studied mainly in the Painting Department, I also took courses from other departments such as Sculpture and Time and Space Departments. I learned, for example, welding and video editing and attended a sound course. In addition to painting, I also worked with short animations and experimental videos on super 8 film.
Remaining open to different techniques and mediums is still important. I would never have imagined that I would one day work with performance. Despite having a strong fear of performing in public, I have still ended up painting in front of the audience.
I long for mysteries that I can try to approach through art. I usually work serially because that way of working allows me to create a sort of poetic collection of paintings or other works.
It is essential for me to work with different mediums, and I believe that the technique should be chosen based on the idea. However, the idea is not always so clear, and it can and will change through the process. The starting point and the process itself are crucial, and without struggle and difficulty, creating interesting art would be challenging. At some point, the process takes over and you can just focus on enjoying the journey. It takes a lot of courage to throw yourself into the process and not know the outcome, but at the same time, it is also one of the charms of making art.
How was that journey after graduation and up until now?
I think I got quite a realistic idea of the art scene and working as an artist already when I was studying. This happened through teachers and visitors, but also through the course called Artist in Society. The course was run by the then-lawyer of the Finnish painters union and she taught us, for example, about artist taxation and various contracts related to working as an artist. For example: exhibition contracts or commissioned work.
Fortunately, nowadays, a lot of information can also be obtained through unions and the Finnish artists' association website. It is also valuable to actively inquire about the experiences of visiting artists and teachers, asking how they have navigated as artists after school. This way, you can gain insights and knowledge that might not be covered in regular courses – what is often referred to as tacit knowledge.
Right after graduation, a few of my friends and I rented a basement for studio space. It was a relief to get out of school, but at the same time it was wonderful that I could share the studio complex with friends I had studied with at Kuva. I received a young artist's grant from the Finnish Art Association, and thanks to it, I was able to start my artistic work. I also worked part-time in a children's cinema, which was located in the premises of the current Hippolyte Galleria.
A few years after graduation in 2008, I was invited to exhibit at a new gallery called Gallery Kalhama & Piippo Contemporary. It was my first big solo exhibition and I have been working with them ever since. Later, the gallery moved to Bulevardi, and at the same time, the name changed to Helsinki Contemporary. I am grateful for the cooperation with the gallery, which has lasted already for 15 years. It's as if we've grown up together.
I'm also grateful that I have had the opportunity to work in a variety of ways on domestic and international exhibitions and projects.
Is it possible to influence the art field and if so, in what way?
I think that the art field can be influenced, but it requires patience and the desire to do it long-term. I feel that it is also our duty to try to make the field better for the younger generations. Changes are often slow, but they are still possible.
One of the most important parties, along with the unions and The Artists Associations of Finland, is Kuvasto. Through them, it is possible to influence the art field and the artist's position in society. I am part of the Kuvataidekummit project, which began at the end of last year, and serves as a good example of how to influence. Another great example is the Artists Associations of Finland's campaign about exhibition payment.
One piece of advice I have for art students is to consider society or the art world in general. It's not only about you, but about all the professionals working in the field. What can you do with your own behavior or your presence around others to improve the position of the artist? You have the impact.
How have you managed to find these connections and opportunities in networking?
I think it's mainly because of focusing on my work. It's really important to meet different kinds of people, for example in private studio visits, friends within school and people outside of school. Now when I think back to when I was studying, I'm still working with the people who I was studying with then and the people who were teaching me.
I think teachers especially play a big role here because at some point they will probably be among those deciding the grants or exhibitions after you graduate. Students probably may not always realize this, so be respectful by showing that you are really into your work and serious about it.
In Finland, the art field often operates through peer review. If your peers don't appreciate you, it can be really challenging to continue as an artist. It is also important to understand that appreciation should go both ways. Even if we don't personally connect with a colleague's work or style, we can still acknowledge and respect their contributions as fellow artists. Showing genuine interest in the art created by others plays a significant role in nurturing a supportive artistic community.
I think I have been working on the art scene for so long that it's quite natural to have different kinds of connections. The connections have always come with my work. That is to say, people have been mainly interested in my work, and then contacted me.
One good way to connect with people is to go to openings and other art events. You don't have to force yourself to talk to strangers, just hang around, enjoy art and you might meet some new people. In Finland, we have such small circles and it's quite easy to get to know people from different positions. If you are doing a good job and are really focused, you will probably meet people eventually.
What things do you wish that you had learned during your studies? If you could time travel and tell your younger self some things what would that be?
I would definitely work harder during the courses, especially the painting materials course with the amazing Malla Tallgren. I was too absorbed in my own projects to fully engage in the course. I skipped parts and didn't pay attention to everything. I probably would have also taken more courses from other departments. I'm also interested in learning, for example, printmaking techniques.
Are there any skills that you want to learn now?
There are a lot of skills I would like to learn about. At the moment, I have started learning how to play drums. I have some sort of fixation on music even though I am totally unmusical. I am also interested in electronic music and synthesizers. And I would love to learn how to sing.
In the near future, I will also be learning how to develop 16mm film myself.
Once you're a graduated practising artist, are there opportunities for you to go and learn about other artistic practices and techniques?
It's possible to study at the Academy of Fine Arts through Open University. If, for example, I want to learn how to make a wooden sculpture, I would probably contact someone I know who works with wood. I would ask if they can teach me a little bit. Or I would go to the Kansanopisto. There are opportunities; you just have to find ways to learn. Or try to find some information on the internet. I think artists are also quite actively organizing courses.
How do you manage to work so hard, especially for such a prolonged time, and not burn out?
It's a really good question, as freelance artists we do not have employment contracts or related benefits; it is important to take care of ourselves both physically and mentally. At some points in my life, I have been very close to burnout. I have had to learn to take care of myself, and besides working out, that means also having holidays and resting on weekends (not only working all the time).
One piece of advice I have for students is to take care of themselves both mentally and physically, like working out or doing whatever makes them feel good. In addition to physical well-being, taking care of mental health is also crucial. If necessary, go to therapy striving for balance. In the profession of an artist, you will inevitably face disappointments, so knowing how to deal with them is crucial. Resilience and persistence are important for artists.
It's also largely about knowing yourself, you have to know the ways how to slow down when things are going too fast. And it's also good to know what things might help you if it's hard. I think the main thing besides art is that you are satisfied in your life.
How do you deal with disappointment?
People certainly have different ways, but my advice is to face it. Sometimes in the past, I tried to avoid the experience and push all the negative things out of my mind. I have tried to learn to accept them while putting things in perspective.
One way is to try to accept that you feel terrible and understand that the feeling will eventually pass. It is important to try to just be with the feeling and look at it from different perspectives. Try to be aware of how you feel, and how your body reacts.
It's also good to think about other possibilities and what you can do about it in practice if, for example, you don't get a grant. Having a plan B is crucial. You should not rely on the fact that you will definitely receive an artist grant when you graduate. Instead, think about not getting the grant, and then you will be more realistic and positively surprised.
It would also be good to understand that if you don't get a grant or exhibition time right away, it's not because you're inadequate or unimportant as an artist. Also, there is fierce competition for scarce resources in the art field. It is essential to understand what you are doing in relation to others, but it is not reasonable to compare yourself to others. We each progress at our own pace; others may have a different, more challenging path. Even those with whom everything seems to be going easily on the outside. Be kind to yourself, and others.
Once you've graduated how do you find opportunities?
A good way is to subscribe to newsletters. For example, the newsletter of the Artists Association of Finland is very practical. Their website provides the latest news and events, as well as guides on how to live as an artist, grants, residencies, open calls, and more.
Reading international art websites is also beneficial. For example, e-Flux is convenient, and you can also order newsletters from there.
One effective approach is to foster connections with artists internationally. Consider organizing exchange exhibitions or seeking out alternative exhibition spaces. The possibilities are only limited by your imagination.
Apply for artist residencies both locally and internationally. In residencies, you can focus on artistic exploration, collaboration, and exposure to new networks.
And last, but not least, apply for membership in artist unions.
–Elle
Life of an art student
In this blog, Uniarts Helsinki students share their experiences as art students from different academies and perspectives, in their own words. If you want to learn even more regarding studying and student life in Uniarts and Helsinki, you can ask directly from our student ambassadors.
Latest posts
---
---
Follow blog