Pedagogy, Performance, Publics: A Report From The Field
In this blog post Jeremiah Day gives some background and links to his ongoing work with CERADA.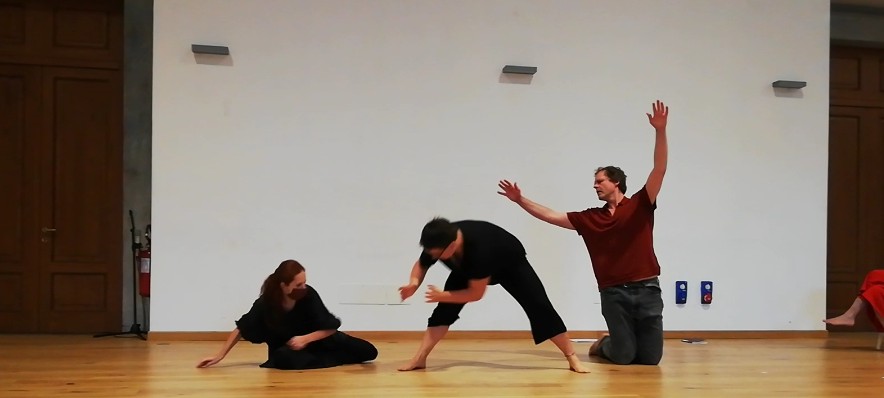 When I entered the scene of "new dance" – first through Contact Improvisation, then collaborating with Simone Forti – I saw a world of potential that now in my work with CERADA I've tried to develop. Through a theoretical and practice-based investigation into new forms of teaching/collaborating that give rise to public performances, this work will lead to a new article at the end of this year and has taken public shape as part of collaborations with several art institutions and self-organized events.
The first of these took place in June 2019 when I was invited to make a performance by the last tenant remaining in a house at the edge of the former Berlin Wall, which has been sold and resold to real estate speculators. Thinking that an individual's response would only be a gesture, I invited those who I'd worked closely with over the years to join me in an ensemble performance engaging the site. The gathering of a community of performers supported a gathering of that nieghborhood to reflect on the nature of the changes we all were facing through a series of performances that were not at all didactic or polemical, but rather more abstract and lyrical. An excerpt of that performance can be seen behind this link.
The next stage of this project was to build a public platform for this workshop model, as part of last winter's exhibition at the Badischer Kunstverein, and this fall through a unique collaboration with the French dancer Claire Filmon and the band Chicks On Speed at Le Lait in France.
I recommend deepl.com for online translation.
Then this fall in Italy this approach was the basis for an intensive workshop hosted by Villa Romana and Performance Arts Research Center in Florence.

A talk with Adalisa Menghini at the Villa Romana that reflects on the history of "new dance" and its potential today can be seen here.

These efforts will cumulatively form the basis for a new article in 2021.
Writer
Jeremiah Day
Art makes a difference
Taidekasvatuksen tutkimuskeskus CERADAn blogista löydät keskuksen uutiset, tapahtumat ja puheenvuorot. Keskuksen tutkijat kirjoittavat taidekasvatuksen tutkimuksesta sekä taidealan korkea-asteen koulutuksen tutkimusperustaisesta kehittämisestä.
Research centre CERADA's blog offers news and views about how research into arts education can have an impact on society. CERADA researchers at Uniarts Helsinki blog about their work.
Latest posts
---
---
Follow blog