What we did last summer…academy
The first ever Arts Management course at the Sibelius Summer Academy took place last week. Because of the current situation with COVID-19, the entire course was held online with participants from all over the world. Lisa Bomash and Jenni Pekkarinen reflect on the pros and cons of the online setting, their course experience, and insights from the lectures. Views of several other programme participants are presented here as direct quotes.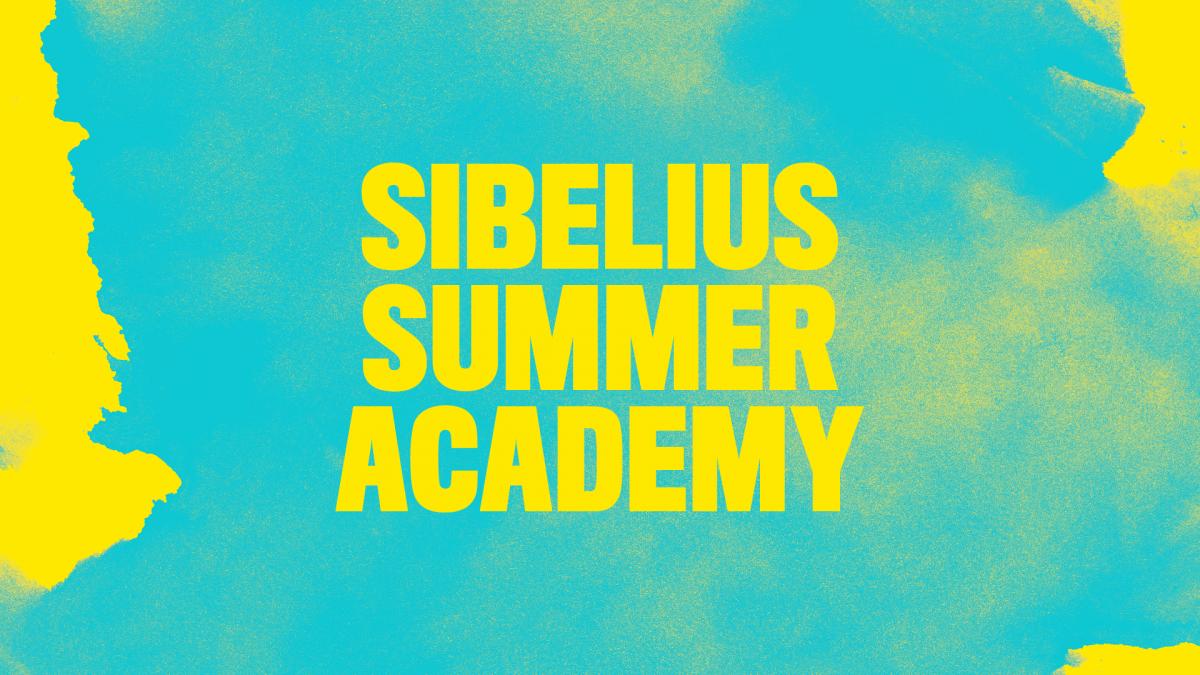 The online experience
J: I think overall, the Summer Academy worked pretty well online. The days were quite intensive but the lectures and assignments were very interesting. However, spending such long days at the computer is very tiresome.
L: Yes. I had mixed feelings about the approaching week of the summer academy. Enthusiasm about the programme and interest in networking were accompanied by the somewhat daunting expectation of spending long days in front of my laptop. I was very conscious of my energy levels during the classes. Each day has had its peaks and troughs. Drinking water and switching off the camera at times helped me to keep focused during the long periods of concentration on the screen. The online format certainly has a very different demand for attention and concentration. Still, an opportunity to have this experience online proved to be totally worthwhile.
J: Of course, a face-to-face format would have been nicer, and I think that would have made networking and participation easier. I tend to feel somewhat nervous about giving presentations online, it doesn't feel very natural to me. However, it was encouraging to see that group formation can happen in an online setting too. I think it helped that we worked a lot in smaller groups and that the groups were different each day.
L: I share your thoughts about this! Somehow the online space still was a great space to meet other participants. Peer learning was a huge part of the process and I agree that discussions in small groups contributed to it immensely. Time zones and continents apart, it was comforting to see that certain challenges are shared in the cultural field. On the other hand, the variety of backgrounds and artistic fields allowed for many critical and exploratory discussions. As a bonus, all participants were lovely and shared their experiences and insights generously.
J: I agree, it was great to have such a diverse group of participants. I believe the different experiences and perspectives enriched the course content. I was also left thinking that perhaps the online format made it a lot easier for people from further away to participate – not only because of COVID-19 but in general, not everyone has the chance to travel to the other side of the world. But then again, although digitalisation has the potential to make access to these kinds of seminars and events more equal, there are still some problems, and the possibilities are not entirely equal for everyone. In remote areas, for example, internet connection may not be as good as it is in bigger cities, and having access to the internet is still not self-evident everywhere in the world. Not everyone has a laptop and internet connection at home. So, if online seminars, courses, and lectures become more common, I think that's a big global equality and accessibility issue to tackle.
Day 1 about policies, art, and well-being
L: As the four-day programme was rather busy, the processing of the full impact took a few days. It's then when I went through my notes and saw how the themes discussed at the Summer Academy classes are connected to my current professional interests. The word "current" came to my mind often in connection to the Summer Academy topics. What is happening right now, what are the scenarios going into the future. What challenges we are facing as humankind, but also what are the opportunities to overcome these challenges by means of cultural intervention. The importance of doing things for fun, exploring areas one feels strongly about, collaborating, and brainstorming are essential components to let the creativity flow.
J: Yes, I totally agree, there were so many topics, interesting insights and food for thought that it definitely took a while to process. The first day about new models of cultural practices, institutions and policies with Dr. Franco Bianchini and Dr. Lynn Frogget alone will keep me pondering for a long time. I think Bianchini's lecture about the impact of the pandemic was very thought-provoking. If there's no going back to the so-called normal, what will the new normal look like? I liked the optimistic take on the question: in this new situation, we have the opportunity to make a change towards a better future, which could mean, for example, more sustainable societies, more mutual understanding and solidarity, and a more important role for arts, culture and creativity. So, maybe it's a good thing that the world will change and we need to change with it. On the other hand, things could go in a totally different direction, too. So I think we need to be alert and try to make sure that the changes this situation brings about will be as positive as possible. Bianchini also emphasised the importance of unity at this moment. Instead of division and confrontation, what we need now is unity and global cooperation to solve big global issues.
I think one of the participants, Nazia Asif, put it quite well: "It hit quite hard, there' s no returning back to normal and doing things like we used to before the pandemic. When sitting here all by myself doing studies at home, I haven' t realised I have to prepare myself, my work and work skills for something new. Exhausting and inspiring at the same time."
L: No returning back! Day 1 certainly provided much food for thought. Especially, the fact that the crisis our world is facing is much wider than the cultural field, but that art does have the potential to encourage and facilitate positive change, It was also a pure pleasure to listen to Dr Bianchini and Dr Froggett. Learning to think more conceptually while also seeing some practical examples that can be used in our future research or work allowed for a productive and balanced study experience.
Day 2 about entrepreneurship and digitalisation
J: Day 2 was very inspiring with eye-opening and motivating thoughts about arts entrepreneurship and digitalisation. I think the two new things that mainly stuck with me were the ideas about digital strategy and digital citizenship. Especially digital citizenship – how have I never thought about that before? That left me thinking about my own digital citizenship. And what would that then mean for an organisation? Oh, and I also really liked the essay "The Forgotten Art of Assembly" by Nicholas Berger. Highly recommend.
I must agree with Sunniva Fagerlund, another participant: "Such an amazing day that focused on how to think like an entrepreneur and be less dependent on governmental funding and to have the courage to test and fail at bringing ideas to life." I also feel that the day gave me a boost of courage.
L: Same with me, motivation-charged day. Especially the ideas that arts and monetary profits are not necessarily mutually exclusive. The Slush presentation was good as well, it made me think even more about the importance of a good business model. A treat of the day was delivered by a fellow participant who guided a short movement practice for everyone. Need to remember to do it more often!
Day 3 about place branding, cultural export, and Finnish metal
J: The third day with Dr. Toni-Matti Karjalainen was another thought-provoking day. We explored cultural narratives, cultural exports and place branding. I really enjoyed the readings that gave me new dimensions to the idea of place branding. I think the case study of Finnish metal music was interesting and a good introduction to the topic. However, it was quite one-sided and lacked diversity of voices, so many different points of view were not explored. But then again, the readings supported that and helped to look at the topic from a more critical point of view. There was a lot of time for group discussion, which was great. We talked about the importance of dialogue and participation in building a place identity, image and brand, cooperating with different stakeholders, ethical issues and minorities, and the dynamic nature of place branding. As Echo Wang put it: "Dr.Toni-Matti makes me know that we should always think about the situation and tell good local stories."
Something we talked about with my group too, is how the branding can have some positive real-life consequences. If the brand building of a place is done together with the biggest possible diversity of stakeholders, and the common values and different identities form the image and brand of a place, could that lead to a further appreciation for the place, its environment and its unique attributes? If, for example, a common respect for nature is part of the brand, maybe more environmental sustainability efforts will be made.
L: This is a good question, Jenni. The topic of the Day 3 kind of linked to the context of cultural planning presented on Day 1. As Eliise Tani remarks: "A good day to start incorporating the new insights from previous days into our own views and analysing the ways place branding can both positively and negatively affect our plans." It is a complex matter, for sure, the layers and interconnections that place branding includes. Something to be aware of and keep in mind. I agree with Sini Kaartinen, who points out that "It is our duty as arts managers to make sure that everyone's voice and story will be heard."
Veronika Valtonen finds the structure of the day worked well too: "For me, Toni-Matti's lectures on music and the impact of that on the Finnish economy and place branding was personally the most amazing one. The whole course of the day felt like a natural progression from practice, to theory and then onto conversation, resulting in some very interesting insights in our group work."
It was cool to think about Finnish metal from a cultural branding perspective and how it can be thought of and researched in an academic context. It made me also remember my teenage years and listen to HIM during the lunch break. I was wondering though, why no one mentioned The Rasmus among other prominent bands? (smiles)
Day 4 about co-operation and networking
J: I think day 4 was significant in terms of group formation and a perfect ending to a great week. Dr. Violeta Simjanovska and Dr. Sue Kay talked about project conception, cooperation and networking. Group conversations were very fruitful: we talked about project management in the context of the pandemic and collaboration with diverse teams. Sue Kay gave a lot of food for thought in terms of collaboration. I really liked how she reminded us about the human dimension in collaboration, and how there should always be time for the "human stuff", too. Also, Sue Kay's insight about the three different needs was eye-opening: there are task needs, group needs and individual needs – all these need to be fulfilled. Conflicts and other issues are often related to the neglect of one of the three. How to balance these? That was insightful for me.
And Violeta asked great questions to activate our thinking. Veronika Valtonen, one of the participants, said it very well: "In the beginning of the day, we were tasked to ask ourselves, why do we want to work in this field? In a time when it feels like everybody is going back to basics, I think it's imperative to ask yourself these questions sometimes: where do I want to go? Where do I want to be? You would be surprised by the emotional depth your answers might hold within them."
L: Totally! It would be hard getting anywhere without being honest with yourself and taking time to answer the why question. And if you are honest with yourself, it's liberating. Another idea from the day I am still thinking about is the importance of human interaction. This is something sacrificed the most when people are getting straight down to business when everyone is permanently busy. It kind of reminded me about another insight that I had earlier this year, about the fact that we all have bodies. When you are hungry or have a headache, chances are you are not as productive or as creative as you can be. But how often might we do stuff when we are unwell just because of the real or even perceived rules and demands? I'd like to remember this and ensure there is always time for just chatting and joking and sharing emotions and having delicious meals together with people I work with.
The Arts Management Summer Academy ran between 11 – 14 August 2020 in Zoom. The teachers and participants represented many countries and continents and proved together that it is possible to create a safe shared space online that fosters curiosity, learning, and collaboration.
The AM Times
Have you ever wondered what arts management is and what's its role in promoting sustainability, diversity and equality? Join us for a peak behind the curtains and learn from arts managers themselves!
This blog is a space for current arts management topics featuring students' opinion pieces and reflections, interviews with field professionals from around the world, and occasional guest posts.
Latest posts
---
---
Follow blog