Reaching out: Highlights of fall 2021
Read about dance and theatre pedagogy master's programmes' event-filled fall semester.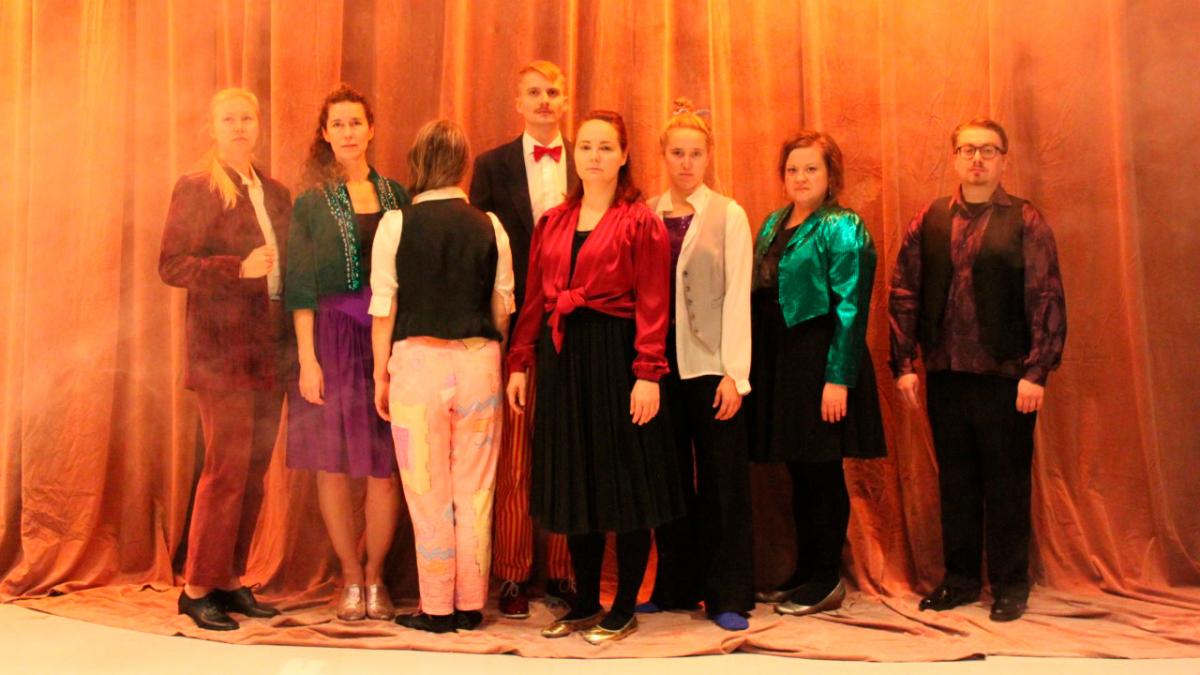 The fall semester of "peda" programmes has been lively and active with various events. All events have the aim to reach out and connect with wider audiences, in one way or another.
In mid-October, a week of so called artistic-pedagogical events took place under the title "Three directions towards" (Kolme suuntaa kohti). During the six-week preparation phase dance and theatre pedagogy students worked in three mixed groups, exploring how performance can be seen as an event. The focus was on processual, open, and porous nature of performance, as well as on the relationship between the performers and the audience. These qualities present opportunities for encounters, change, and in so doing, connect art with pedagogy.
In all three events, the aim was also to become aware of the ethical questions of participatory performances so that the participants feel respected and cared for, as is the aim also in pedagogy. The subtle connections between artistic and pedagogical skills are at stake here. One common denominator is reciprocal interaction and dialogue; a heightened sensibility about how the performer is both affecting and affected by others and the environment.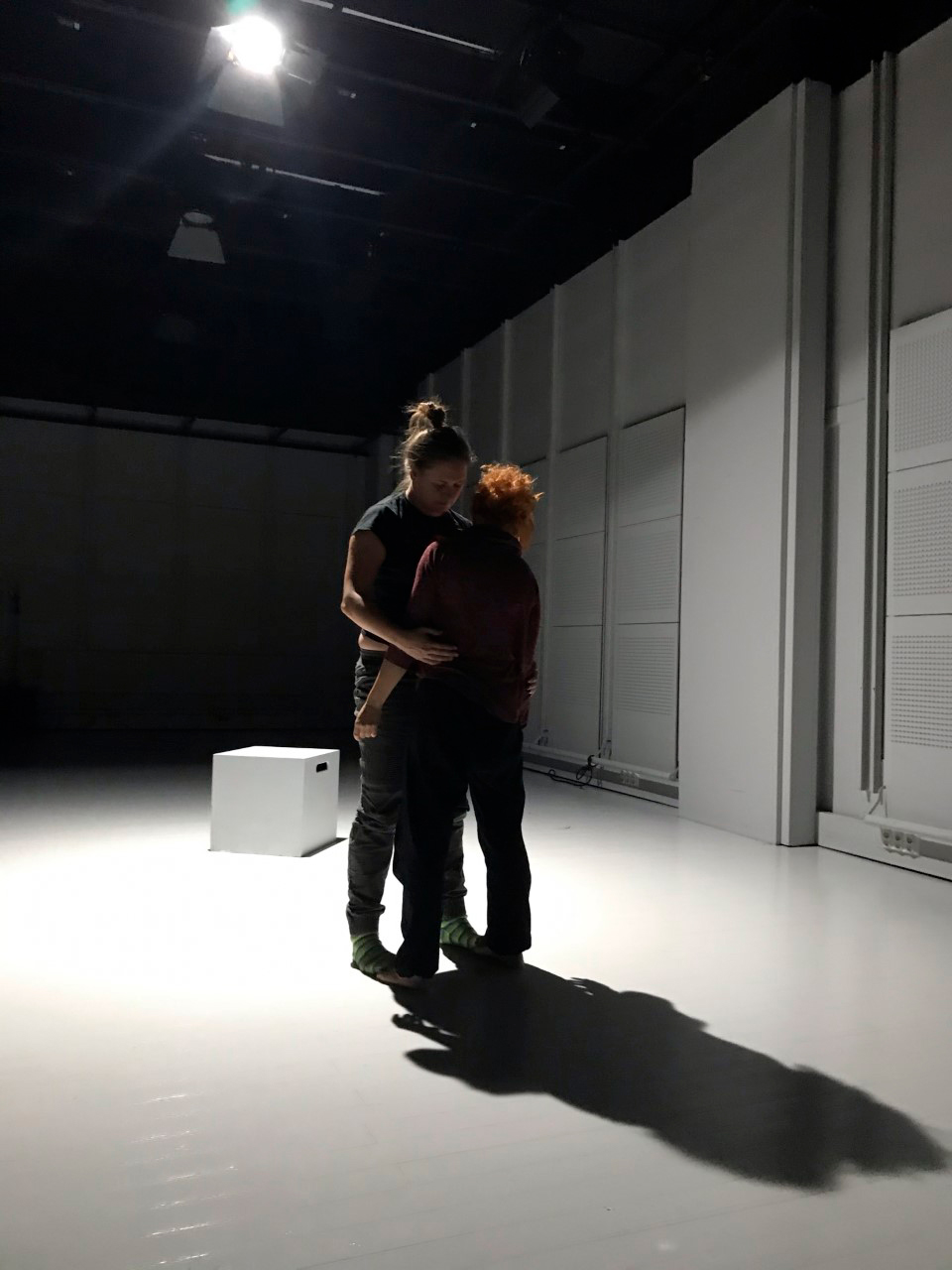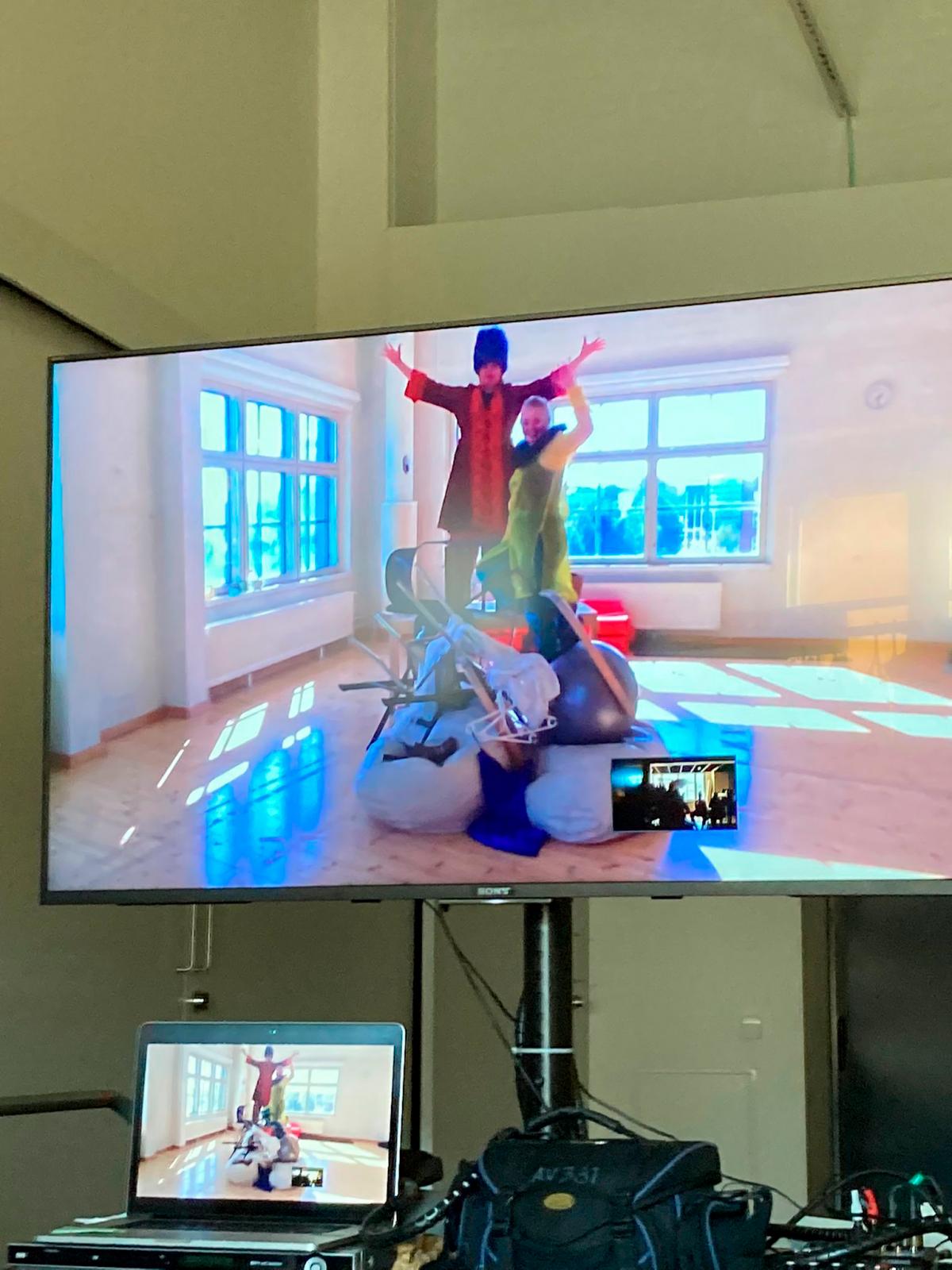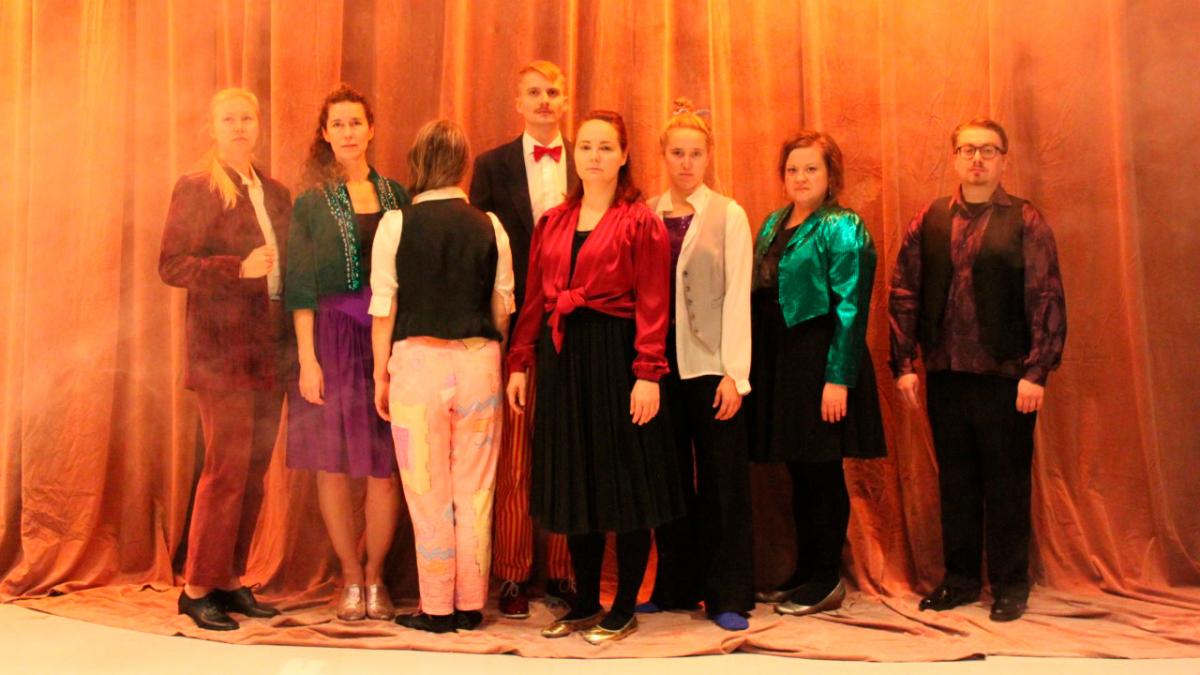 Developing "Pedagogy of Imaginative Dialogues" (PIMDI) with international partners
After the fall break TAO, that is, the Master's Programme in Dance Pedagogy hosted international guests from Iceland, Norway and the Netherlands. A group of thirty students and 11 teachers worked together for the entire week, through November 25-29. The intensive week was part of an Erasmus Plus project titled 'Pedagogy of Imaginative Dialogues'. This project brings together four art pedagogy master programs. The partners are Hanze University of Applied Sciences (Groningen, the Netherlands), Iceland Academy of the Arts (Reykjavik), University of Adger (Kristiansand, Norway), and of course, Uniarts Helsinki.
At the heart of the intensive week was encountering vulnerability, difference, and otherness. As the project leader, Gudrun Beckman, explained: "Often, when meeting new people, we try immediately to figure out common ground. Here, the focus is on trying to suspend this urge and to stay a bit longer in not-knowing, in the field of difference. In this, the notion of dialogue is central. How can I stay true to myself and respect you being different from me? Valuing our differences is the way to find the common ground between us."
The process began by reflecting our own experiences on vulnerability and contexts of care. Then the students worked in small, mixed groups, and started to create a "present/ation" to share, or present, at a senior center. The aim was also to be present for the other – in this case, senior citizens – in a respectful, sensitive, caring and dialogical manner. Pauliina Laukkanen and Elli Isokoski, through their 20 years of experience as the Tempest Group (Myrskyryhmä) supported the students throughout the week in these fragile encounters with each other and the senior citizens.
One of the so-called 'intellectual outputs' of PIMDI focuses on developing artistic, embodied methods of reflection and documentation. In this, choreographer, activist Riikka Theresa Innanen's support was of key importance as she shared her extensive experience on video documentation with the participants. The aim in this is to simultaneously illuminate the work from several viewpoints, creating a 'parallax' instead of a single perspective. Through this kind of documentation the participants' reflective process can be enriched as they can witness the process from multiple viewpoints.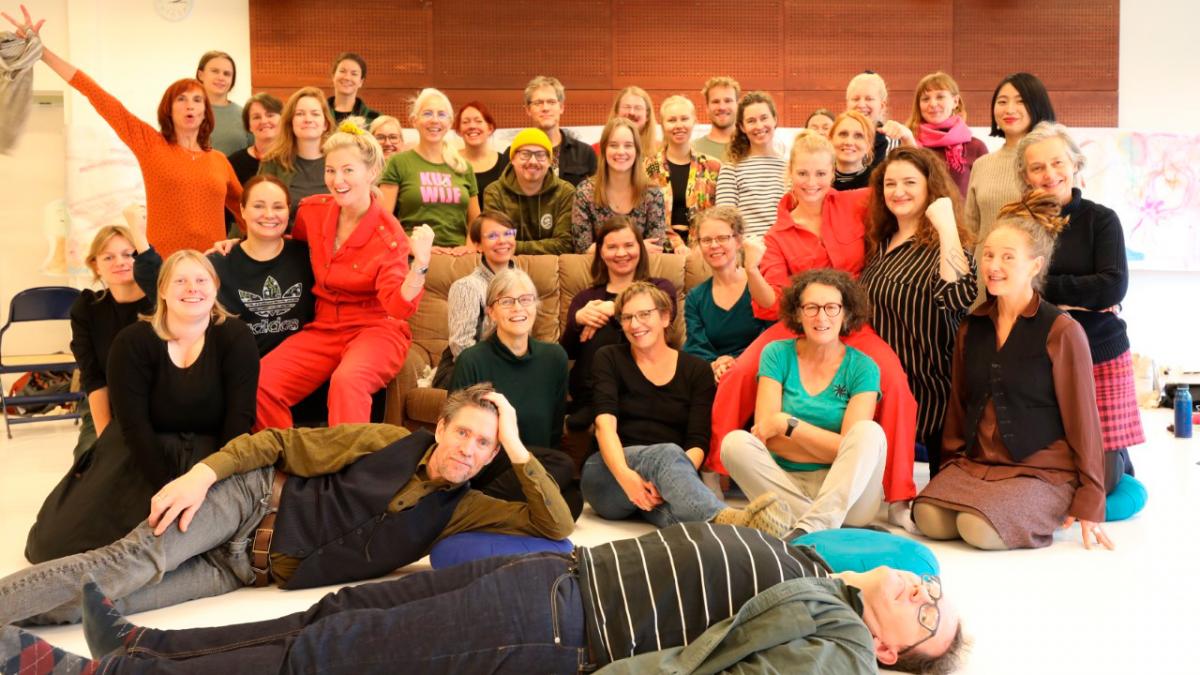 Expanding views on art and culture: The Middle Eastern Evening
The Middle Eastern Evening took place at the Theatre Academy on November 4. The aim of this event, first of its kind in this context, was to engage in a dialogue between Middle Eastern and Western art and culture, and in so doing, to increase awareness about Middle Eastern artists in exile in Europe and globally. In addition, the aim was to start concrete artistic or pedagogical collaboration with them and to create an international network with Uniarts Helsinki and Middle Eastern artists and arts institutions.
These aims are aligned with the strategy of Uniarts Helsinki where, for example, developing an anti-discriminatory and antiracist university is emphasized.
The evening included music, theatre, fine arts, presentations and a panel discussion. Behind the event is the Middle East Project that started within the Dance Pedagogy master's program in January 2021. The project is based on the importance of recognizing the value of different cultures and conceptions of art in higher arts education. This includes recognizing our debt to Middle Eastern culture and art and appreciating Arab cultures among the oldest cradles of civilization. Moreover, the purpose of the project is to support Middle Eastern artists in developing their craft and in learning about Finnish culture. Syrian dance artist Angela Aldebs together with Miia Kivilä from the Sibelius Academy's arts management programme were instrumental in organizing the event.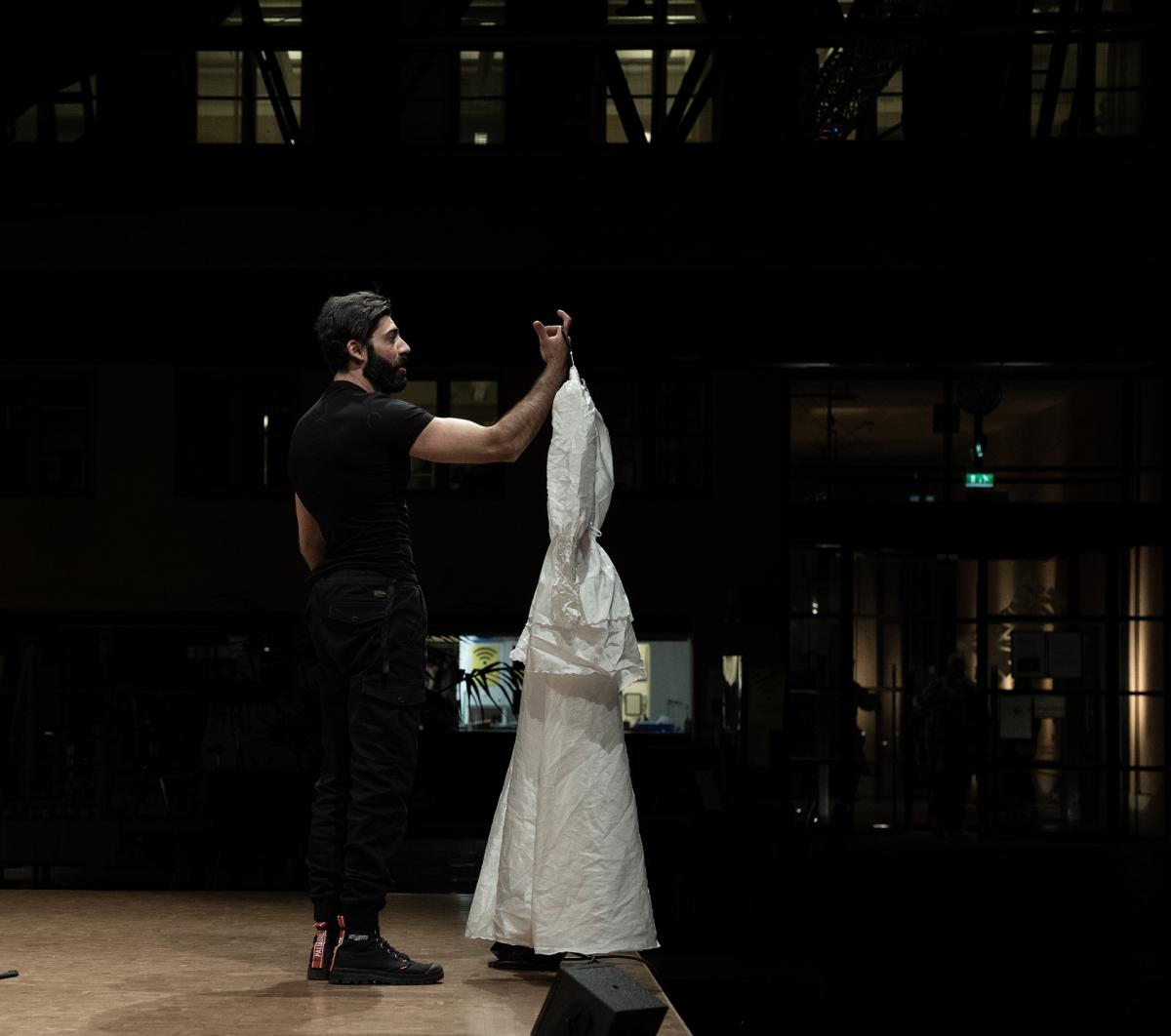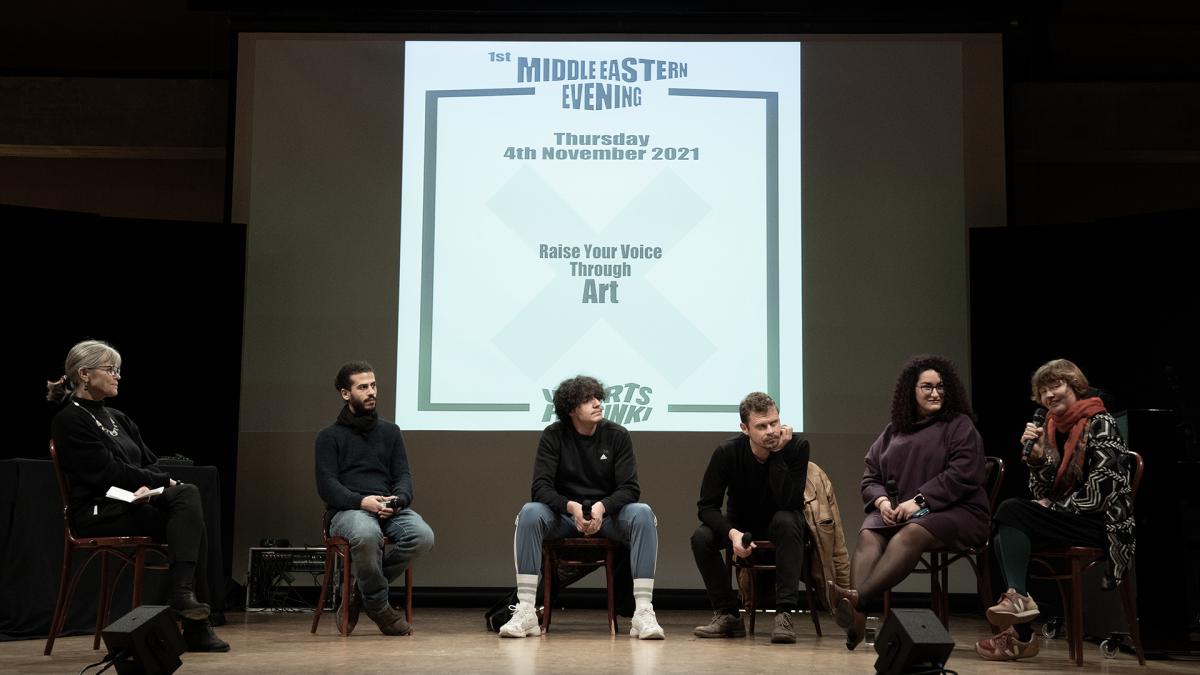 Working towards equality in performing arts education: A vision for 2030
As a culmination of the intense fall semester peda programmes participated in the kick-off seminar for Vision for Performing Arts Education project that took place on November 5. The project aims at establishing a vision for Finland's state of education in theatre, dance, circus and performance art for 2030. Master's programmes in dance and theatre pedagogy are closely involved in this work as programme leaders Eeva Anttila and Riku Saastamoinen are part of the steering group. For dance and theatre pedagogy students, participating in this seminar was part of the studies.
Accessibility, diversity and quality of pedagogical competence are highly valued in our MA studies, and they are aspects that we should also focus on nationally, at all levels of performing arts education. "Peda" programmes' interest is to be closely involved in strengthening a shared view of what development needs, objectives and measures are relevant to education in the field of performing arts.
The aim of the vision work project is also to support regional and national cooperation between different operators in the field of arts education. To achieve this aim, it's essential that 'peda' students as future professionals are involved. Likely to work in various positions in the field of arts education in the future, it is important that they commit to continuous development after official vision work ends in November 2022.
These events illuminate the aims of the dance and theatre pedagogy master's programmes where art teachers are seen as socially engaged agents of change. They need to be interested in critically examining the societal structures, norms, and traditions and to be willing to challenge the status quo. This also means that art educators' professional expertise expands beyond questions about teaching and learning towards wider questions related to social justice.
Authors
Eeva Anttila
Anna Lehtonen
Living art pedagogy
A blog of dance pedagogy and theatre pedagogy master's programmes in which teachers, students, and alumni talk and write about performing arts pedagogy, studying and teaching. The blog contains texts and podcasts.
Elävää taidepedagogiikkaa
Tanssinopettajan ja teatteriopettajan maisteriohjelmien blogi, jossa ohjelmissa opettajat, opiskelijat ja alumnit puhuvat ja kirjoittavat esittävän taiteen pedagogiikasta, opiskelusta ja opettamisesta. Blogi sisältää tekstejä ja podcasteja.
Latest posts
---
---
Follow blog