The AM Times
Opinion pieces, reflections and interviews from the arts management world.
About this blog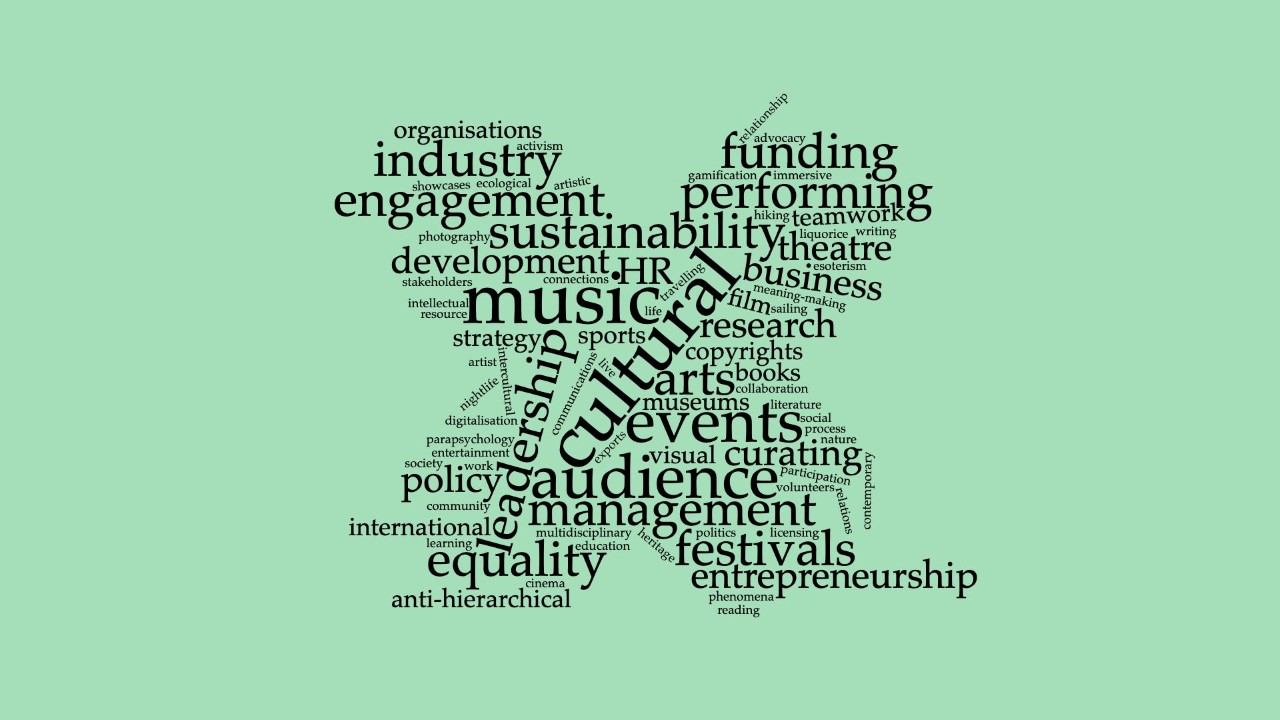 Planning and executing an international study trip is part of the Arts Management degree programme. There is even a special association, the Association of Sibelius Academy Managers of Arts, that all new students join to arrange the trip in an orderly fashion. The study trip is an opportunity to get an overview of artistic practices from other countries and form new connections. This is a short story about arts management students from the 2019 intake planning their study trip. In a way it reflects the nature of work in the arts – we make things happen with flexibility, resilience, belief in what we do, and some luck.

Selkokulttuuri ry is a young association with the goal of making high-quality artistic content accessible to everyone regardless of their level of Finnish language. The association grew out of an idea explored by students during one module of their Arts Management degree.

This piece has been written collaboratively by members of the Selkokulttuuri board, all arts management students of the 2019 intake. Read on to learn how to turn an idea into reality and start an art association in Finland in the middle of the pandemic.

In this blogpost Arts Management student Lilja Lehmuskallio takes a look into the intricacies of the thesis process at the Arts Management department and shares intriguing examples of theses written by former students of the programme. Keywords such as Cultural Policy, Feminism, Leadership, Instrumentalism, Race, Civic activism, Fundraising, Music festivals and Strategic planning will serve as hors d'œuvres for the reader.

Sini Kaartinen, arts management student and the new chairperson of the ArtSU board shares her insights about advocacy work at the student union. Read on for a boost of inspiration and mark 18.4.2021 in your calendars for casting your vote in the municipal elections.

Badarinath Gella is an aspiring entrepreneur and yoga teacher among many other things. After studying and working in Europe he went back to India to help solve pressing problems there and explore the opportunities his home country presents. Lisa Bomash talked to Badarinath about digitalisation and arts in the rural areas of India, entrepreneurship, and education.

Sasha Huber (CH/FI) is a Helsinki-based visual artist of Swiss-Haitian heritage. In her work, she addresses topics such as politics of memory and belonging, and colonial and racist histories. She is currently also working on her practice-based PhD. Arts Management student Jenni Pekkarinen interviewed Sasha Huber about her artistic work, the impact of this turbulent year, and questions of identity and anti-racism.

In summer 2020, the world went quiet as most of the mass events around the globe were cancelled. Worldwide, tens of thousands of event professionals were left unemployed and millions of festival goers had to find other activities for their summer weekends. Meri Jaakola, a festival production freelancer, looks into how the summer without events appeared in her social circles, largely consisting of event production professionals and avid festival attendees, in Finland.

The first ever Arts Management course at the Sibelius Summer Academy took place last week. Because of the current situation with COVID-19, the entire course was held online with participants from all over the world. Lisa Bomash and Jenni Pekkarinen reflect on the pros and cons of the online setting, their course experience, and insights from the lectures. Views of several other programme participants are presented here as direct quotes.

Dr. Franco Bianchini, a Visiting Professor at the Sibelius Academy, is a prominent expert in the fields of cultural policy and cultural planning. His research and publications cover a wide range of themes, including culture-led urban regeneration, cultural diversity, and the relationship between arts and sport policies. Recently, Jenni Pekkarinen interviewed Dr. Bianchini about his background, European Capitals of Culture, the impact of COVID-19, and his current topics of interest.

Lisa Bomash caught up with Artem Titanian, theatre producer from Saint-Petersburg, Russia and a 4th-year Arts Management department student at the Russian State Institute of Performing Arts (formerly Saint-Petersburg Theatre Arts Academy). Artem discussed his views on the state of the performing arts field in Russia, the scope of the curriculum, and shared his plans for the future.

Key words: Russia, cultural policy, theatre, studying production, touring in Russia

In 2020 the Covid-19 pandemic brought most of the cultural industries into a standstill. While scientists had warned about such crisis, the world was largely taken by surprise. In a matter of weeks plans were widely eliminated or seriously jeopardized. This poses questions regarding the methods of strategic planning and management, but a critical view argues that a fundamental unpredictability is inherent in the complexity of human interactions itself.
About this blog
Have you ever wondered what arts management is and what's its role in promoting sustainability, diversity and equality? Join us for a peak behind the curtains and learn from arts managers themselves!
This blog is a space for current arts management topics featuring students' opinion pieces and reflections, interviews with field professionals from around the world, and occasional guest posts.
Authors
---